Microsoft Flow lands on iOS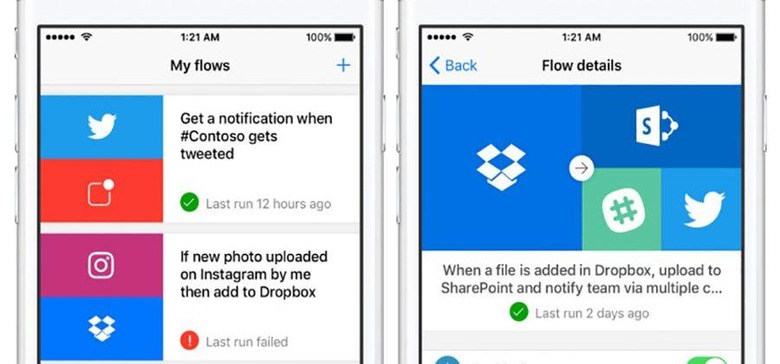 Microsoft launched Microsoft Flow not too long ago in an effort to combat IFTTT and originally when the Flow service launched mobile devices like the iPhone were unsupported. That has changed with Microsoft Flow landing for iOS users to try out. If you are unfamiliar with Flow, it's a workflow management tool that launched originally online.
The idea behind Flow is that you could use a single interface to mash up multiple cloud services to create workflows that allow users to automate file synchronization, alerts, and other tasks. Flow is mostly focused on allowing integration with Microsoft's own tools whereas competitors like IFTTT and Zapier have a wider range of supported services.
Flow supports Microsoft tools like Office 365, Dynamics CRM, PowerApps, and Yammer. It will also supports MailChimp, GitHub, Salesforce, Slack, and other services. With Flow installed and configured users can do things like get a text message to your mobile device when your boss emails you or save results from a twitter search to an Excel file to share. For users who handle lots of photos or other files, you can do things like copy photos from Instagram to Dropbox or copy other file types from OneDrive over to SharePoint.
The iOS app allows users to manage all their previously created Flows on their iOS device. The app also has an activity feed so users can keep an eye on recent Flow actions in one place. The app also supports push notifications rather than email notifications when important flows are in use. Microsoft plans to expand the capability of the app over time including the addition of the ability to add flows from the mobile app. Microsoft is currently working on an Android version of the app as well.
SOURCE: Techcrunch