Microsoft Details New Windows 8 Task Manager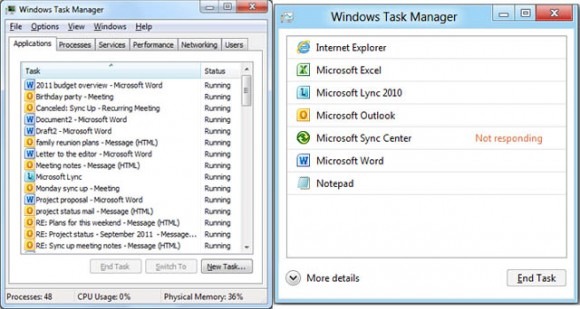 Microsoft revealed today some more details on its Windows 8 developments by discussing the improvements made to its new Task Manager. In a post to the Building Windows 8 blog, group program manager Ryan Haveson explained that the team assessed how people were currently using the Task Manager and then redesigned it with the focus of optimizing for the most common scenarios, using modern information design, and not removing functionality.
Of the several tabs across the top of the current Windows Task Manager, Haveson's team found that most people were using only the first two tabs for simply ending an application or process. Hence, the revamped Task Manager for Windows 8 has this interface simplified and the extra tabs removed so that the utility now looks cleaner while still serving its main purpose: to kill misbehaving apps.
A new feature of the Windows 8 Task Manager is the addition of a colorized heat map view that makes it easy to locate which apps are misbehaving and taking up too much system resources. Apps or processes that are using resources above a certain threshold are also highlighted in this view.
Additionally, the new Task Manager makes it easier to identify each application in use on your system by grouping applications, background processes, and Windows processes. For processes that you're unsure of, Windows 8 includes a context menu option that lets you right click on the process to do a search on the web to learn more about it.
[via WinRumors]