Microsoft and HCL teams up to rollout cheapest Windows-based notebook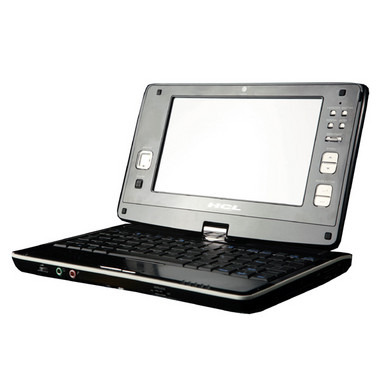 The notebook will be rolled out as part of HCL's MiLeap brand of HCL Leaptops. It will be running Windows XP Home, weigh less than 1kg, and have a 7-inch TFT LCD touch-screen.
The screen will be able to be rotated converting the notebook into a tablet, and it will be a touchscreen, it will respond to a stylus and the software will include handwriting recognition software for taking notes. The whole system will be powered by an Intel ULV processor with Intel's 945 GU Express chipset.
Other features of the notebook include a 1.3MP camera, 1GB of DDR2, a built-in touchpad, two mouse buttons, scroll, directional pads, dedicated softkeys for things like WMP, speakers, WiFi, Ethernet, and a full sized keyboard. This is shaping up to be the Tablet PC I've been dreaming of but with the price of a budget PC at about $425 when converted. I hope to God this thing makes it to US shores, I know I'd buy one if it works half as well as it sounds.
[via techtree]