Michael Kors Access Grayson review: Android Wear puts on a pretty face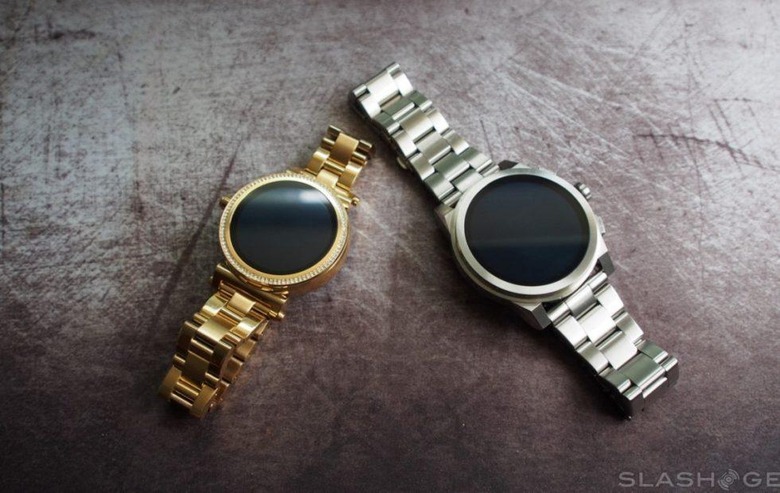 I have to be honest: the value of a smartwatch is something that's always been lost on me. Though novel and even somewhat exciting at first, each and every smartwatch I've tried has eventually just found its way to a drawer, destined to be forgotten. Despite the fact that the smartwatch industry seems to be a bit shaky, Michael Kors is back on the scene with its new "Access" line of Android wearables. Perhaps trying a luxury smartwatch can get me to change my mind about smartwatches in general?
Design
Right out of the box, the Grayson – the men's line in the Access series – and the Sophie – Access watches aimed at women – are striking in their design. It's immediately clear that these are unlike any smartwatch I've ever used before, for the simple fact that they actually look like a watch that I would like to have on my wrist.
There's a certain heft to them that isn't present in many of the other smartwatches I've worn. The Grayson in particular feels like a well-designed watch, but be warned: it's heavy. If you're used to wearing something like a Samsung Gear, it's going to take some time to get adjusted to the weight of the Grayson. It did for me, at least, and it's worth pointing out that the watch face on the Grayson is large as well. Perhaps not too much bigger than those of other luxury watches, but big enough to be noticeable.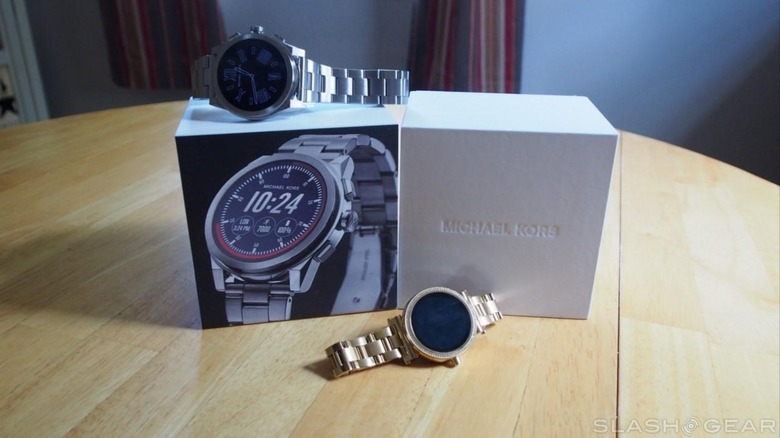 Then there's the bling. While the Grayson is a little more subtle in its design, the pave on the Sophie is certainly eye-catching. If you're the type who wears luxury watches like this regularly, then you'll feel right at home sporting something like the Grayson or the Sophie on your wrist. If you don't, however, you might feel a little underdressed for the watch on your wrist when you're wearing casual clothing. Maybe it's just the fact that I don't normally wear luxury wristwatches, but that feeling never really went away for me as I walked my dog in a t-shirt and shorts with this near-$400 device strapped to my wrist.
Regardless, I feel that Michael Kors knocked it out of the park with the design of these watches. They look excellent, and if you fear they'll look out of place when paired with casual clothing, there are a number of leather and stainless steel wrist bands to choose from that will help the watch look not-so-formal. I was sent the Sophie in gold and the Grayson in silver to review, but both watches are available in a variety of different colors so you can pick the one that looks best on your wrist.
Functionality
The Access line is powered by Android Wear 2.0, and though all of the watches are compatible with iPhones and Android phones, you're obviously going to get more mileage out of one when it's paired with Android.
Here's where the typical smartwatch experience begins to settle in. You can use this watch to do any number of different things, from checking notifications and sending messages to pulling up Google Assistant and tracking your step count. You're essentially getting the core Android Wear 2.0 experience with these devices, so if you've been through this dance before, you already know what to expect.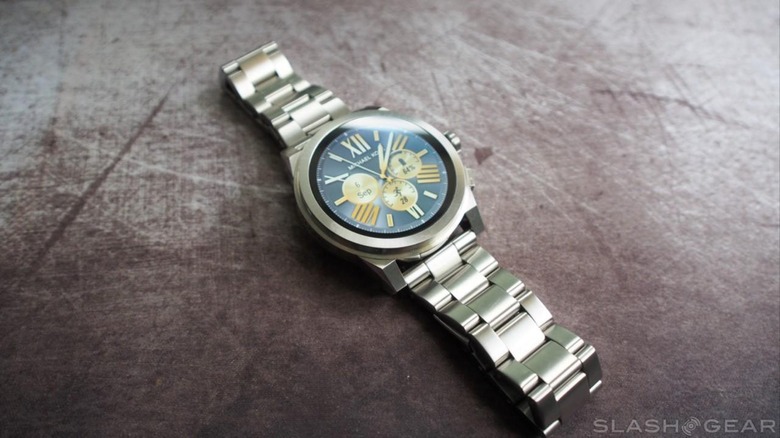 Michael Kors, to its credit, doesn't add very much fluff to its smartwatches. This is equal parts good and bad in my mind – I love it when device manufacturers let the operating systems speak for themselves, but on the other side of the coin, I just don't find the capabilities of Android Wear to be all that exciting. That's more of a personal hang-up, though, and if you already know that you like the extra functionality Android Wear brings to the table, then you certainly won't be disappointed here.
Michael Kors didn't leave the smartwatch functionality of the Access wholly untouched, adding a few features that fall under the "Michael Kors Access" umbrella. It's here that you'll choose and customize your watch face, and I have to say that the company has built in a good number of options. Some of these watch faces look better than others, but it won't be hard to find one you like. Once you've picked a face, you can customize whatever dials might be on it to display information like battery life, alarms, calendars, or step count.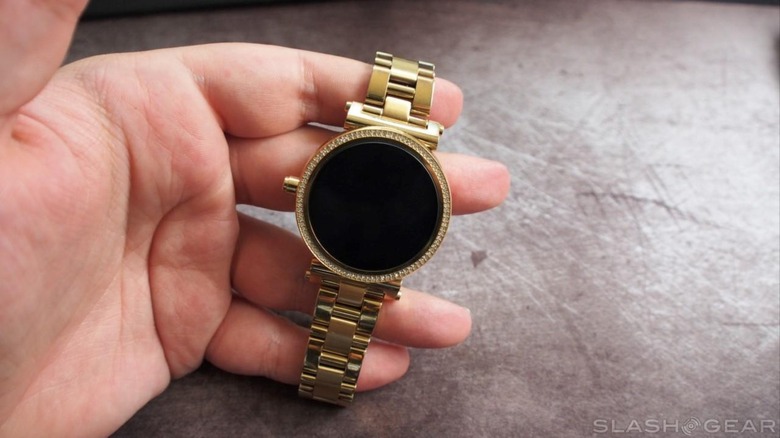 Michael Kors Access also offers a "My Social" feature, but it isn't as comprehensive as you might think at first. My Social really only serves to connect to your Instagram and Facebook accounts to pull pictures and use them as custom watch faces. It's a cool idea on paper, but unless you're a professional photographer, you're probably better off sticking with the faces available through Michael Kors Access – I've found that photos of people and animals don't really make for an attractive backdrop.
The watch comes with 4GB of onboard storage so you'll be able to download plenty of watch faces and apps from the Google Play Store. It also comes with a built-in mic so you can initiate calls and talk to Google Assitant. It's nice to have Google Assistant along for the ride, even if it will always feel weird talking into a watch.
One thing to note is that you're limited in terms of connectivity. All of the watches in the Access line come without NFC radios and cellular access, but those are two missing features I didn't really mind. The core functionality of Android Wear is still present, after all, so we don't necessarily need all of the bells and whistles that would only serve to make the watch heavier than it already is. If NFC or cellular capabilities are important to you, keep in mind that this may not be the line for you.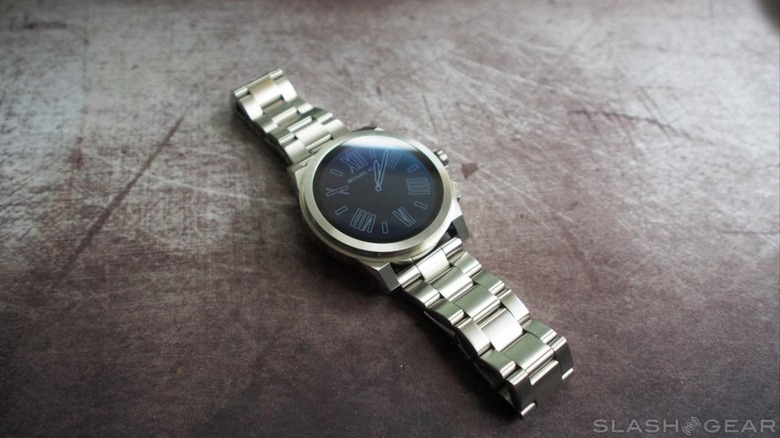 The Grayson's 454x454 display and the Sophie's 390x390 display both look pretty good – nothing amazing, but better than the panels I've seen on a lot of smartwatches. 512MB of RAM keep things running fast and smooth, and IP68 water resistance means that you don't need to fear the water – though with a watch this expensive, I'm definitely going to err on the side of caution.
Both watches are charged magnetically and wirelessly. Michael Kors quotes a charge time of two hours, and that's right in line with what I experienced in charging both the Grayson and Sophie from zero to 100. It also says that both watches have a battery life that can top out at 24 hours, though I wasn't able to squeeze quite that much out of either watch. If you don't make adjustments to things like brightness, the battery actually drops surprisingly fast, but depending on your usage, most users will only have to recharge at night.
Wrap-Up
There isn't a whole lot to say about the Grayson and Sophie aside from the fact that they offer an inoffensive implementation of Android Wear 2.0 in a beautiful package. These are certainly only for big spenders, with both starting at $350 and climbing closer to $400 depending on which variant you choose. If you've been in the market for a smartwatch and you don't mind spending that amount of money, I don't think either will disappoint.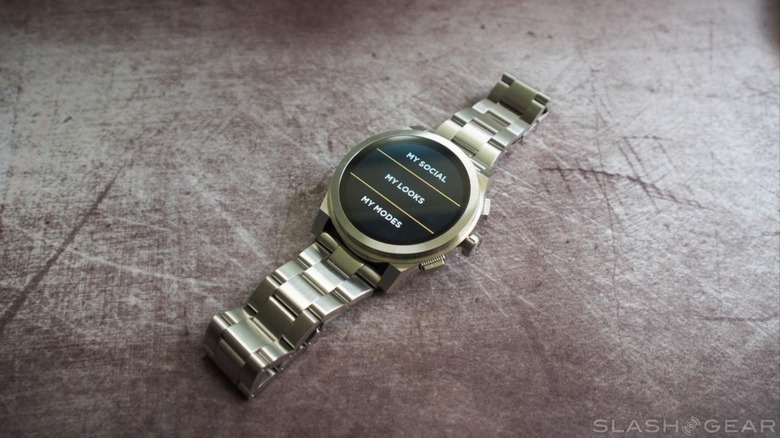 A word of warning though: if you're anything like me, the appeal of the a smartwatch may not last. If you've owned smartwatches before and you like what the Grayson and the Sophie offer, feel free to dive in, but if you've never used a smartwatch before and you're unsure if you'll like it, you might want to pick up a less expensive smartwatch first. $350 is a lot to spend on a smartwatch that might just end up sitting in a drawer, so you should be absolutely sure that you want this before you take the plunge.
Beyond that warning, I don't have a difficult time recommending these Access watches. They're easily the most beautiful smartwatches I've ever encountered, and they check most of the Android Wear boxes we'd expect. It's hard to want more out of a smartwatch other than good looks and solid functionality, and in the end, I'm surprised by how much I liked wearing the Grayson. It may not have sold me on smartwatches in general, but it's come closer than any other watch yet.