MetroPCS to get Samsung Finesse touchscreen phone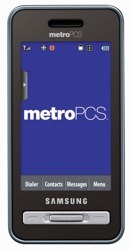 The news is non-stop from CTIA 2009 today and wouldn't you know it that there was a little surprise tucked away in the endless slew of press releases? MetroPCS is will be getting a new touchscreen phone from Samsung called the Finesse.
This phone is actually pretty similar to the Instinct and the Delve in that it uses the TouchWiz interface. However, this is not a smartphone–it just looks like one! It features a 3-inch 240 x 400 touchscreen display, 3G, web browser and mobile IM. It also has a GPS application, a media player and an email app.
It seems this phone is available now without a contract. However, since it's not subsidized, the Samsung Finesse will cost you $349. A tad pricey for the feature set, but may be worth it if you're not looking to get roped into a two-year contract.
[via PhoneMag]