Metallo Design Gilty Couture for your iPod and iPhone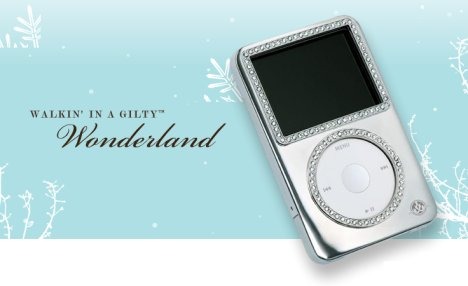 So you already have an iPod or iPhone, but you want it blinged out a bit without dolling out thousands of dollars, well, the Gilty Couture collection has you covered, well they actually have your iPod covered, but you get the idea. Anyways, you can buy a case for your iPod or iPhone from these folks in various metals/crystal colors and they all look amazing.
You get your choice of gold or silver, both are jewelry grade, whatever that means, then you get your choice of regular crystals, or pink crystals, embedded into the metal of your choice making up a fashionable shiny shiny iPod case. On a side note, the crystals are all apparently Swarovski crystals, the value of which I am sure is constantly diminished since they are putting them in everything these days, I even saw them on a pencil the other day.
The price tags depend on model and metal primarily, but the number of crystals is also a factor. The cheapest case, at $55, is for the latest version of Shuffle (also the smallest), its made with silver and has a single (albeit larger than the others) crystal on it, the most expensive is $200, and is probably for either the 5G iPod or the iPhone, they also sell a cleaning cloth, and a velvet pouch to keep the thing safe in.
Gilty Couture adds bling to gizmos [via ubergizmo]