Metal Gear hero Solid Snake stars in goofy new Ford ads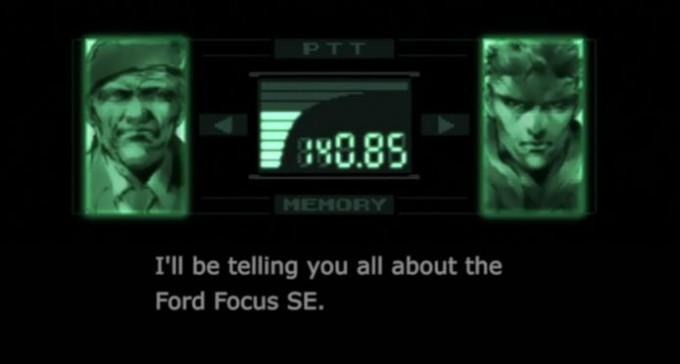 Long-time fans of Metal Gear Solid, Konami's stealth-action video game series, know that the original voice actor for hero Solid Snake was unceremoniously replaced in the recent MGS V titles. While none other than TV star Kiefer Sutherland was brought in as the new voice, to many players, David Hayter — who played the character for roughly 10 years — and his distinctive growl will always be synonymous with Snake. Out of the blue, however, Hayter is reprising the role, not for a new MGS game, but for a Ford commercial.
It seems Ford has collaborated with Konami for a pair of commercials just posted to YouTube, using the first Metal Gear Solid game on the original PlayStation as the setting and theme. The ads are actually well-done, taking an obvious goofy/over-the-top approach.
The first takes place in a codec screen, the first game's radio-like communication feature, with Snake and Colonel Roy Campbell (also voiced by original actor Paul Eiding) talking about the new Ford Focus SE:
The second video doesn't feature Snake's voice, but does use footage from MGS's memorable boss battle with Pyscho Mantis. In the original game, Mantis is able to read Snake's mind and knows what actions he will take. The same applies here, but Snake's thoughts seem to more on a new Ford Fusion than his mission at hand:
The videos came to light after Hayter shared them in a Twitter post on Friday, writing "Snake is back. And he's driving a Ford."
Ford appears to be a series of these type of videos, called "Overdubs," with funny dialog dubbed over footage of various pieces of pop-culture. There are several others in the series, like one that uses the early '90s cartoon Captain Planet, and another pair that seem to use soap opera footage, both of which feature Hayter again.