Metal clad Samsung Galaxy A7 SM-A7009 lands at TENAA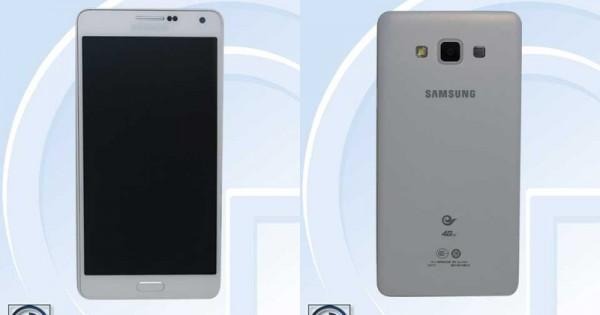 Samsung's new metallic family is about to be complete, at least in China. After the Galaxy A5, model number SM-A5000, appeared in Samsung's Chinese website last week, it is the turn of the Galaxy A7 model to surface, but this time only in a TENAA filing, which means we have in our hands quite a few details. Although the largest of the three Galaxy Alpha successors, the SM-A7009 still sports hardware that undoubtedly marks it as a mid-range smartphone, albeit in somewhat premium coating.
Getting down to the specs immediately, we have a 1.5 GHz octa-core CPU, definitely the highest compared to the 1.2 Ghz of both the Galaxy A5 and the Galaxy A3. The screen is also larger at 5.5 inches, though not necessarily higher, with only a Full HD resolution like the Galaxy A5. RAM is at a decent 2 GB, while internal storage sits at 16 GB. Hopefully like its smaller siblings, it too will have a micro SD card slot for expansion. The rear camera is quite high at 13 megapixels, but the front-facing one is perhaps even more impressive, boasting of 8 megapixels.
The SM-A7009 is definitely a varied mix, but those specs won't exactly be its selling point. The entire point of Samsung's "A" series is the design, its foray into a more metallic unibody structure compared to its mainstream plastic preference. That said, this new metal design can be described as an excursion at best, as Samsung isn't keen on giving up its old ways. Especially not after its plastic endowed smartphones proved to be more resistant to deformation in the recent #bendgate fad that crawled through the Internet.
Another reason that Samsung might not be considering a wholesale shift is that the market hasn't spoken yet. Sales of the existing premium Galaxy Alpha and some of the more affordable Galaxy A3 and A5 devices have been rather quiet lately, either because of a lukewarm market reception or because of the sparse availability. The appearance of the SM-A7009 in TENAA does indicate that this last variant might soon appear in the Chinese market, but it remains to be seen whether it will actually have a presence there.
SOURCE: TENAA