Mercedes-Benz GLC Coupe mixes coupe sportiness with SUV practicality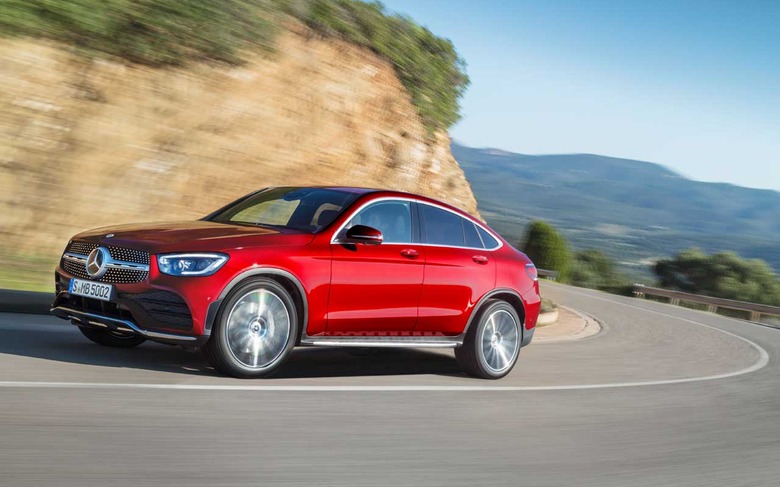 Not long ago Mercedes unveiled the GLC SUV to the masses. The German automaker is now back with another version of the GLC called the GLC Coupe. It's not really a coupe thanks to its four doors, and it has the higher stance of an SUV.
Mercedes says that the GLC Coupe "skillfully and intricately combines the sportiness of a coupe with the functionality of an SUV." This appears to be a ride aimed at those wanting an SUV for the utility and hauling capacity, but wanting coupe style. Mercedes has rolled in some new tech with the latest MBUX user interface and intelligent driving assistance systems.
The systems include an exit-warning function, emergency-corridor function, and a tail-end-of-traffic-jam function. Mercedes has integrated a Trailer Maneuvering Assist function to help when backing a trailer up, perfect for those who might want to tow a golf cart or boat on the weekend.
The GLC Coupe has new engines available now, and additional engines will be added later. One of the engines is a diesel that meets Euro 6d standard. The gas engines will use a 48V onboard electrical system to provide hybrid functions. Engines include 145hp or 190 hp gas options with 10kW of Energy Recovery Boost; diesel options include 120hp, 143hp, and 180hp offerings.
To start Mercedes will offer the GLC 200 4MATIC, GLC 300 4Matic, GLC 200 d 4Matic, GLC 220 d 4Matic, and GLC 300 d 4Matic. Mercedes has provided no official launch date and hasn't offered pricing details.