Mercedes-Benz GLA concept sports laser video projector headlights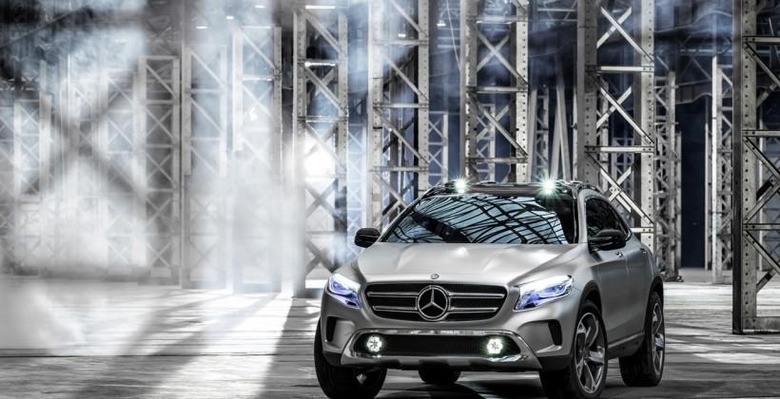 Mercedes-Benz likes to keep this high-tech and modern with their vehicles, so naturally it makes sense that the company's latest concept — the GLA — has laser projection headlights capable of beaming videos. The CUV is set to make an appearance at the Shanghai Motor Show next week, but it seems the company wanted to tease it first before its official unveiling.
The laser projection headlights are something of amazement it seems, and thanks to some pretty nifty technology that's built right into the headlights, drivers can project any image or video onto a screen. The images or video can come from a phone, tablet, flash drive, or even the internet using the GLA's in-dash COMAND system.
However, Mercedes didn't add projection to the GLA just for kicks and giggles — there is a logical purpose behind this, and the company says the projection system can be used as a real-time GPS navigation overlay.  It's certainly something different then just looking at a small GPS screen during the whole trip.
The headlights feature a cooling system composed of a series of fans, so you won't have to worry about the inevitable overheating of most projectors. Plus, there's even a pair of HD video cameras mounted to the roof of the vehicle, and they're detachable so you can take them with you when you're not driving around. As for the engine specs, you're looking at a turbocharged 2-liter four-cylinder motor pushing out 208 horsepower and 258 pound-feet of torque, with a seven-speed dual clutch transmission and 4Matic all-wheel drive.
[via Engadget]