Mercedes-Benz announces SPLITVIEW COMAND display for both passenger and driver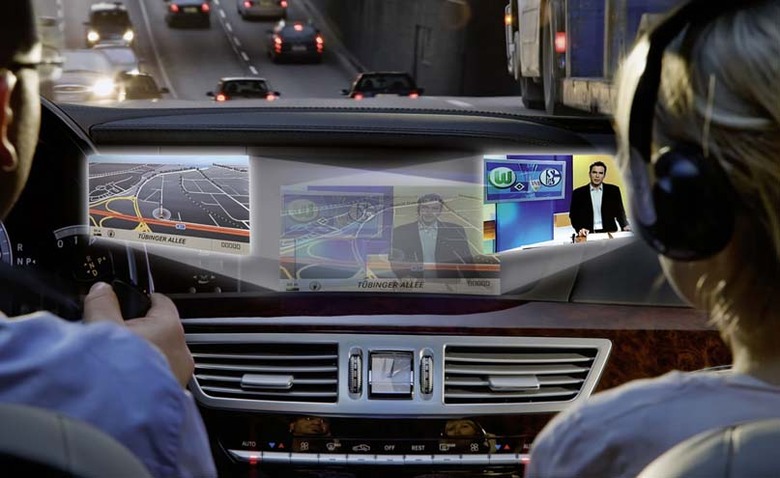 Mercedes Benz has announced that in the summer of 2009, a new SPLITVIEW technology will be featured in S-Class models. Developed in collaboration with Bosch, this single Command display allows both the driver and passenger to view two separate programs simultaneously.
The 8-inch display is capable of allowing the driver to use GPS navigation while the passenger enjoys a film. Mercedes Benz says the pixel placement is the key behind the technology that allows for such use. The COMAND screen shows two separate images simultaneously by placing pixels adjacent to one another. The filter masking the display then divides the mixed image depending on the seating position, allowing only one person to see a single image.
Now, if this is not luxury we don't know what is. As with current S-Class models, the driver still has access to all of the COMAND functions while the passenger has a remote that allows them to choose from a music video, TV channel or DVD. The passenger even has to option to use headphones if they wish not to disturb anyone.
Official Press Release:
Innovative SPLITVIEW technology: Mercedes-Benz S-Class: two programmes on a screenStuttgart – In future Mercedes-Benz is equipping its luxury class models as the first premium brand with a display screen that allows the driver and front passenger to view two different programmes at the same time. While the driver is checking the navigation instructions, the front passenger can sit back and watch a film on the very same display. This is made possible by new SPLITVIEW technology which the Stuttgart premium brand is introducing in the S-Class for the first time.

Mercedes-Benz has integrated the new SPLITVIEW technology developed by Mercedes-Benz and Bosch into the innovative control and display system COMAND, which is centrally located in the dashboard console. Its generously dimensioned, 8-inch (approx. 20 mm) monitor shows a backlighted active matrix colour display (TFT-LCD). This shows two different images simultaneously by placing pixels adjacent to each other. A filter masking the display divides this mixed image in such a way that depending on the seating position, only the pixels making up one or the other image can be seen. As a result, the driver and front passenger can view different programmes on the same screen at the same time.

The driver still has access to all the information from the control and display system COMAND on the display, while the front passenger uses the remote control to choose his own entertainment programme with DVDs, TV channels or music videos. To avoid distracting the driver with his entertainment programme, he also has the option of enjoying the programme via headphones. As before, the driver is able to view all the information provided by the COMAND system on the display.

Mercedes-Benz is introducing the new SPLITVIEW technology in the S-Class for the first time in summer 2009.

Copyright © 2008, Daimler AG