Mercedes-Benz AMG GT R will leave you green with envy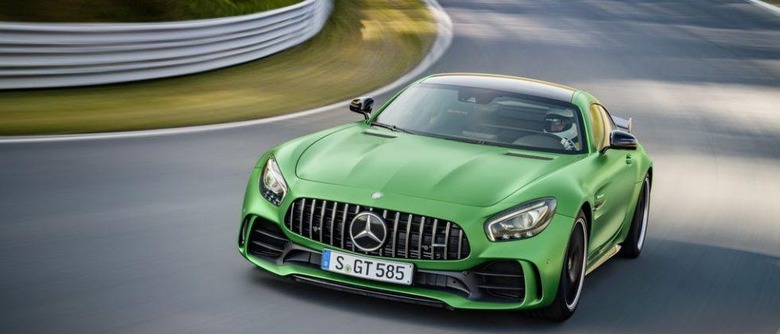 Mercedes-Benz's latest special edition is all about green. Just unveiled in the UK, the AMG GT R is, obviously, an eye-catching shade of green. It's called "AMG green hell magno" in reference to Germany's Green Hell, the nickname for the Nürburgring Nordschleife course, which is where the car was tested and tuned. This new performance model will also leave other AMG GT owners seeing green, as the R's specs even top the AMG GT S. And lastly, if you want to drive one, it's going to cost you a whole ton of green.
Just as you'd expect, Mercedes has made the AMG GT R lighter and more powerful than previous AMG GT models. It's capable of a top speed of 198 mph, and can go from 0-60 in just 3.5 seconds.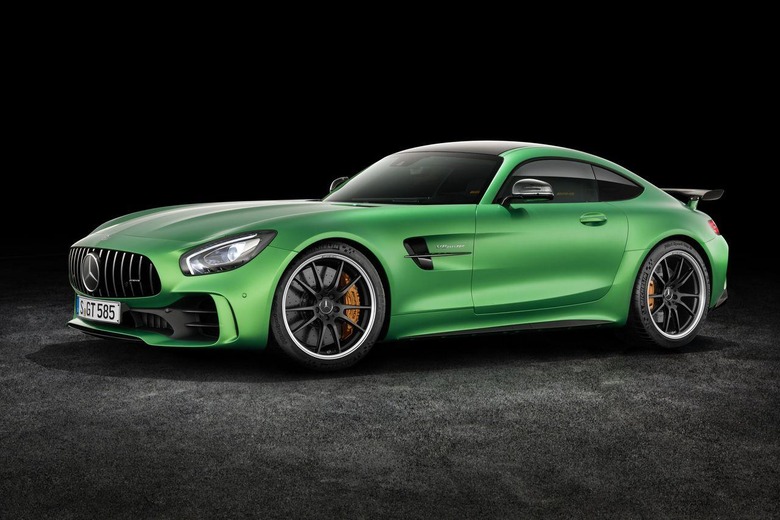 Mercedes has upped the AMG GT R's 4.0-liter Biturbo V8 engine to 577 horsepower and 516 pound-feet of torque. To compare, the AMG GT S puts out 503hp and 479 lb-ft., while the "standard" AMG GT offers 456hp and 443 lb-ft.
Aside from wider fenders and tires, special features on the R include four-wheel steering, which has the back wheels turn in small amounts to improve handling during corners, and a motorsport-inspired traction control system that goes beyond just "on" and "off," offering nine different levels. Mercedes says the R is also 200 lbs lighter than the GT S thanks to heavy use of carbon fiber.
2017 models of the AMG GT and GT S are being released this summer for prices of $111,200 and $131,200, respectively. The price of the GT R, on the other hand, hasn't been revealed, which likely means it's going to be a painful number. Even if you have the deepest pockets, you'll still have to wait, as Mercedes won't begin sales until year as a 2018 model.
SOURCE Mercedes-Benz