Mercedes-Benz 2015 C-Class Debuts With Less Weight And A Heads Up Display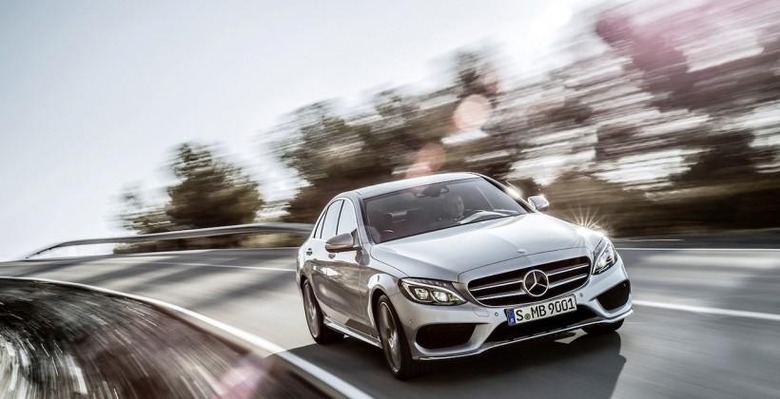 Mercedes-Benz has officially announced the all-new 2015 C-Class. The new C-Class is a premium mid-range car that has been redesigned for the 2015 year model to offer a car that is more aerodynamic, lighter weight, and more fuel efficient. The car will be coming to the US market with two variants.
The new models include the C300 4Matic using a 2.0L turbo direct-injection 4-cylinder engine. Mercedes says the engine has preliminary power figures of 235hp and 273 pound-foot of torque. The C-Class will also debut in a C400 4Matic using a 3.0L turbo, direct-injected V6 producing 329HP and 354 lb-foot of torque. Both of the 4Matic models feature all-wheel drive.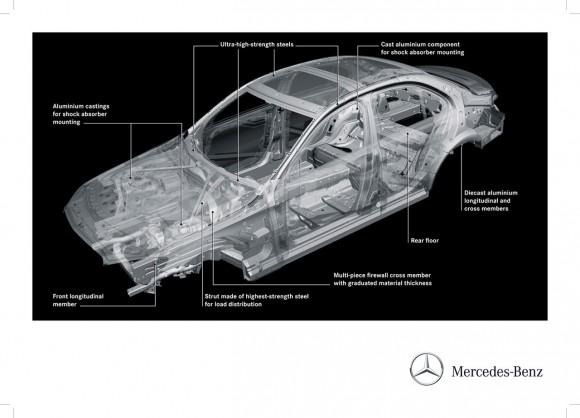 The new C-class has grown to accommodate taller drivers with a 3-inch increase in wheelbase to 112 inches. The new C-Class is also 3.7-inches longer at 184-inches than the previous model. The trunk also gets more space with 17 cubic feet of storage. The car can have two different "faces" according to MB with one offering a sporty look or a classic grill with the Mercedes star on the hood.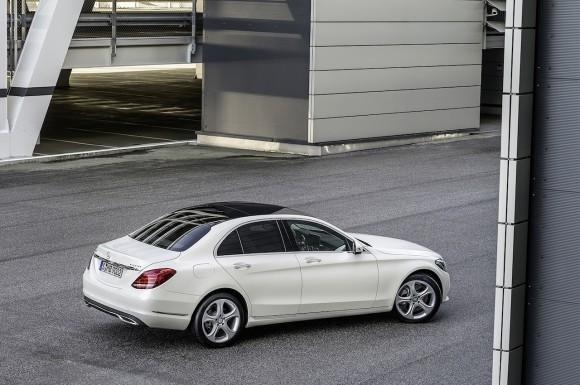 The C-Class has H7 halogen headlamps and can be options with two different LED headlamp packages. The new C-class also gets a head-up display that puts important information in the driver's field of view on the windshield. The information includes vehicle speed, speed limits, and navigation instructions. The new car is 220 pounds lighter than the previous, despite being longer thanks to the use of more aluminum in its construction.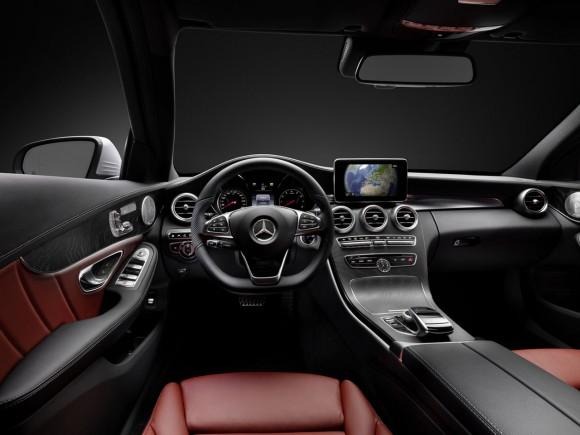 Safety features in the car include Distronic Plus with Steering Assist that helps the car to follow the car in front of it at speeds less than 37mph for use in traffic jams. The car also gets Bas Plus Brake Assist System to boost brake force to avoid accidents of the driver doesn't hit the brakes hard enough. The car also has tech to help the driver remain in their lane. The car also gets Active Parking Assist to help with automated parking featuring active steering and brake intervention for parallel and end on parking. Pricing is unannounced.
SOURCE: Mercedes-Benz