Mercedes-AMG GT 4-Door Coupe pricing announced and Porsche should be worried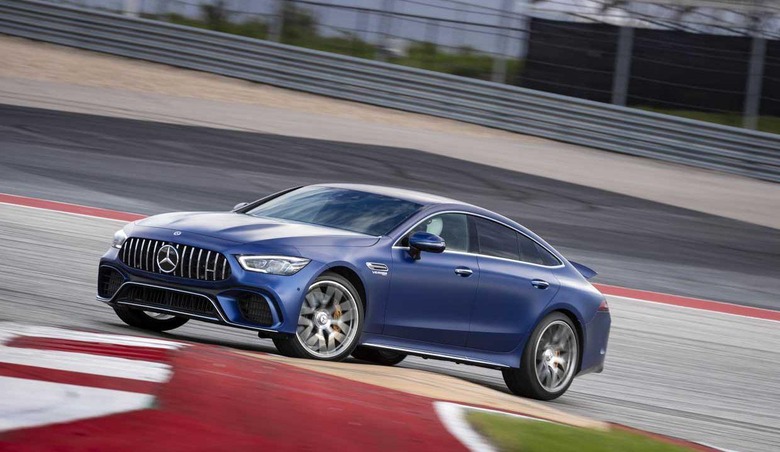 Back in September our man Vince got to head over the F1 racing track, Circuit of the Americas, in Austin, Texas and spend some time wheeling around the track in the sexy Mercedes-AMG GT 4-door. At the time he drove that car all Mercedes would say on pricing was if you could afford the $200,000 asking price of the Porsche Panamera Turbo S, you should be cross shopping. Anyone who assumed that meant the high-end AMG GT 63 S Coupe would sell for $200,000 would be wrong.
Mercedes-AMG has announced the official pricing on both versions of the car and pricing is surprisingly low considering the car's nature. The base Mercedes-AMG GT 63 Coupe will set you back $136,500 for starters. That gets you a four-door car with a handmade AMG 4.0L V8 biturbo engine making 577hp and 590 lb-ft of torque.
The car also has AMG Performance 4MATIC+ all-wheel drive with an optional drift mode for the hooligan inside your well-heeled exterior. The transmission is an AMG Speedshift MCT 9-speed, and Mercedes says the car can hit 60mph in 3.3 seconds and the top speed is limited to 193 mph. The hotter Mercedes-AMG GT 63 S Coupe starts at $159,000.
That ride has the same handcrafted 4.0L V8 biturbo engine, same AWD system, but with standard drift mode in this version. Power output is 630hp and 664 lb-ft of torque. The 63 S uses the same Speedshift MCT 9-speed transmission as the standard GT 63 coupe.
With lots more power and torque, the Mercedes-AMG 63 S Coupe is good for 60mph in 3.1 seconds and a top speed of 195 mph. Mercedes will offer an AMG GT 53 variant with its pricing announced later. All prices are minus the $995 destination and delivery charge.