Mercedes A-Class has built-in car sharing via Mercedes me app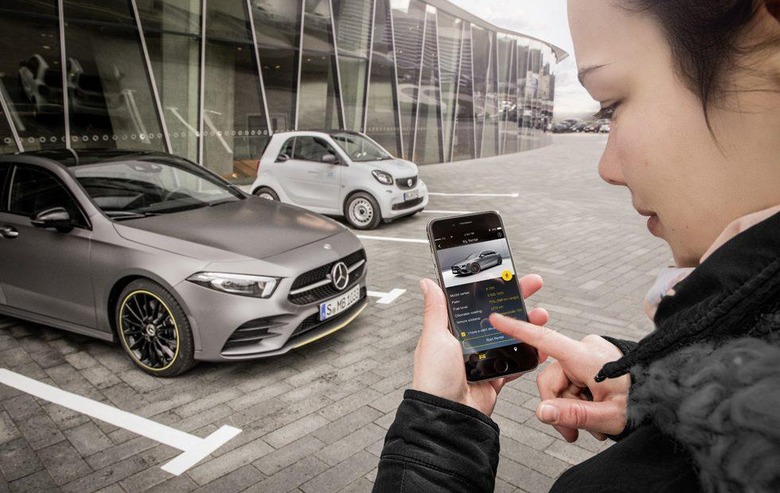 Mercedes is talking up a cool feature of the new A-class cars that makes it very easy to share your car with friends or family. The sharing of cars is becoming more and more common according to Mercedes with 1.7 million people in Germany registered with car sharing companies already. Mercedes has extended its services to support private car sharing.
The Mercedes me app Car Sharing allows drivers of the A-Class cars to share the vehicle with a specified group of friends. The app allows the members of the sharing pool to book the A-Class for a fixed period. The user authorized for the car for that time can open the vehicle with the app thanks to the Mercedes me communication module installed in the car.
The A-Class can then be started with the vehicle key, that is left in the car and enabled over the air by Mercedes me. When the time allotted for the car is over, the driver puts the key back in the car and closes the car via the app. The key left inside the vehicle can only be used during the specified sharing period.
This means criminals can't bust out the window, get the key inside and drive off. The cars can also be contactlessly opened, closed, and started using NFC tech. In Germany, the A-Class is offered with a Digital Vehicle Key Sticker with an integrated NFC controller. That eliminates the need for the user to have a smartphone that supports NFC.
With that feature, the driver just places their smartphone that has the key sticker on it into the Qi charging tray to start the engine. If the phone supports wireless charging, it will also be charged while in the tray.
SOURCE: Daimler