Coming along with news of the upcoming US availability, Meizu is showing off the M3 smartphone here at CES. The handset sports a 5.1-inch display with a resolution of 1800 x 1080 and is powered by an octa-core Exynos 5 processor which is then paired with 2GB of RAM. Despite having a 5.1-inch display, the phone still appears to be on the smaller side, which is partially due to the narrow bezel — it measures in at 2.90mm.
The US release of the Meizu M3 will bring a handset 3G and WiFi in terms of connectivity. The handset should be available during the third quarter of 2014. So far there has yet to be anything mentioned in terms of pricing, or whether they will be selling the handset unlocked or through carriers. For now though, we see a device that is running FLYME 3.0, which is based on Android 4.2 Jelly Bean.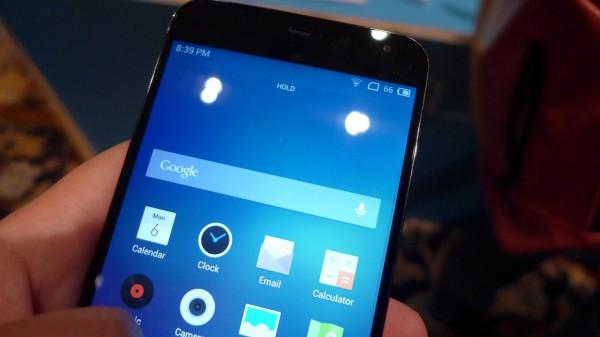 Some of the other hardware specs include a 2400 mAh battery, 2 megapixel front-facing camera and an 8 megapixel rear-facing camera. Meizu has some goodies for the camera including zero-delay shooting, a 2.0 aperture and 77 degree wide angle. The rear camera can also record 1080p video at 30 frames per second. Otherwise, storage options for the M3 include 16, 32 and 64GB.
Aside from the hardware, which is sleek looking, Meizu has made a point to focus on the user experience. This goes back to the FLYME overlay, which is touted as being able to offer "an easy to use interface that can easily be navigated with one hand." To that point, Meizu has a feature where you can pull down on the home screen and have it hold in place — which makes for that promised easier one-handed use.