Megaupload founder creates new file-sharing service, calls it "Mega"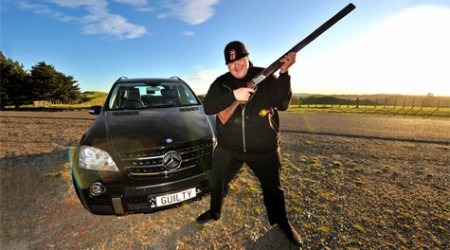 Megaupload founder Kim Dotcom has faced a lot of grief lately from pretty much everyone with a badge. His house was raided, and he was thrown in jail for a bit. However, he's back and isn't even close to getting out of the business that got him in trouble in the first place. Along with his past colleagues, Dotcom is starting another file-sharing service called "Mega."
Dotcom describes Mega as a unique service that will solve the liability problems faced by many cloud storage services, and it will enhance the privacy rights of users. Then again, many critics are saying that Mega will simply be just another version of Megaupload that will skirt the legal issues that faced the old service, and will eventually be shut down just like before.
Certain aspects will indeed stay the same. Mega will be the same one-click, subscriber-based cloud service that will allow customers to upload and share large files, but the difference now is that files will first be encrypted before they upload, and anyone who downloads the files will receive a unique key for decryption purposes.
This means that Mega would not be able to view any files that are uploaded to its servers, which the company says would not make them responsible for its users' uploaded content. Dotcom says that the only way that this new service would be deemed illegal is if encryption itself was illegal, according to Dotcom's legal experts. However, Dotcom says his new service isn't "a giant middle finger to Hollywood and the DoJ," and he and his colleague note that if users violate copyright, there are rules in place to take care of it.
[via Wired]