Mega Man's 25th anniversary brings goodies to die-hard fans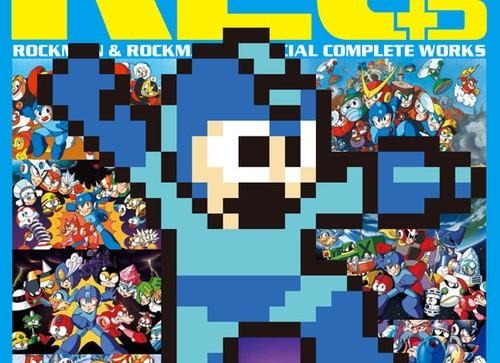 One of Capcom's most iconic classics, Mega Man, is turning 25 years old this year come December. The Mega Man franchise has seen a huge amount of success, with over 40 game variations of the series being created, over 30 million copies of its games being sold, and with several TV shows being created/based off of it. To celebrate its upcoming 25th anniversary, Capcom is looking to give back to the players that helped make the series so successful.
Unfortunately, Capcom didn't announce a new game being developed for the series, but it did announce several collector's items that are set to go on sale later this year. One of the collector's items is a Mega Man USB statue. The statue is 10-inches tall and is powered through USB. The statue is based off the classic version of Mega Man, and will have light-up boosters. Unfortunately, the statue will only be available at the San Diego Comic Con.
Next up is a Mega Man art book. The art book, titled, MM25 Mega Man & Mega Man X Official Complete Works, is a 432-page art book published by Udon Entertainment. It will feature all the character art and designs from the entire Mega Man and Mega Man X series, and some concept art for Mega Man 9 & 10. There will also be developer interviews, and tribute art from Hitoshi Ariga, Toru Nakayam, and Shigeto Ikehara. The book will be released in the second-half of 2013.
Next up is Worlds Collide. Worlds Collide is a crossover comic series that's a collaboration between Mega Man and Archie's Sonic the Hedgehog comics. The series will start on April 10th, 2013, and will run for 12 issues and span over 3 story arcs. On May 4th, you will be able to grab a free primer of the comic book series from your local comic book store for "Free Comic Book Day".
Last, but not least, Capcom will finally be releasing Mega Man Original Soundtracks. There will be 10 Mega Man OSTs released, for Mega Man 1 through 10. The OSTs were available in Japan, but they never found their way to the United States or Europe. The OSTs are set to be released sometime during the summer, but there is no word whether or not it will be sold separately, or in an entire collection.
Capcom has also stated that it has been listening to Mega Man fans all around and that they have been working on something new. They aren't able to announce something yet because they want to have a product that's deep into development first. But until then, Mega Man fans can quell their cravings by purchasing the Mega Man 4 remake for the Nintendo 3DS that's set to come out April 25th. Following Mega Man 4's re-release is Mega Man 5, which is set to be released on May 16th, and Mega Man 6, which is set to be released sometime around June.
[via Forbes]