Meet the new 2019 Audi A8, a self-driving super-luxury sedan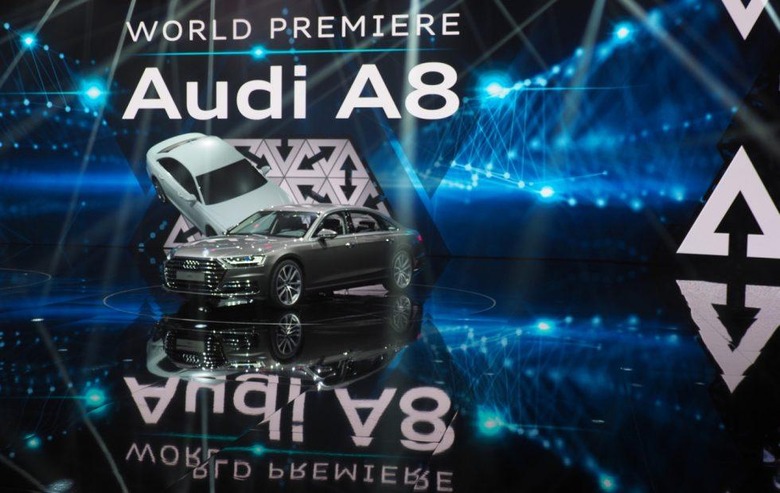 Supercars may be fast, but the cutting-edge of automotive technology is happening in luxury sedans like the new 2019 Audi A8. The fourth-generation of Audi's most luxurious car, the new A8 introduces Audi AI, a vision of smarter mobility including industry-first Level 3 assisted driving that, the automaker says, will eventually see all of its cars intercommunicating.
From the outside, it's a refined evolution of the previous A8. The front is dominated by Audi's Singleframe grille, wider and bolder than before, while cues from the Audi prologue concept make themselves known in the body lines and profile. It's a big car, too: 17 feet long in regular A8 form, or with a 5.1-inch longer wheelbase in the A8 L version, designed to cosset back-seat passengers.
Some of the geekier detailing we've seen Audi experiment with over the past few years makes an appearance too. The flagship A8 gets HD Matrix LED headlamps with Audi laser lighting, while the rear lights use OLED. HD Matrix lights reappear on the inside, too, for focused reading lamps. Indeed, the interior might be the place where the biggest design improvements have been seen, with things like electrically-opening and -closing shutters for the ventilation system, and an optional "relaxation seat" for the A8 L that even has heated foot massage. Those in the rear get an OLED remote to operate all the car's infotainment systems.
If you're in the front, meanwhile, the familiar Audi controls are notable for their absence. Gone is the rotary controller and touchpad, replaced with a 10.1-inch touchscreen that merges into the high-gloss black console. That's used for the primary infotainment features, while a second touchscreen lower down is dedicated to HVAC and text-input. Haptic feedback for both touchscreens and the glass-look physical buttons is included too.
Voice control is also present, though now with natural voice recognition. The A8 can recognize traffic signs and other hazards, and includes car-to-X support that, eventually, will use data populated from other Audi cars to give insights beyond the vehicle's own sensors. LTE connectivity is standard, and there's an updated version of Audi's navigation with Google Earth maps including cityscapes, and a learning feature that promises smarter suggested destinations based on your own routines and driving patterns.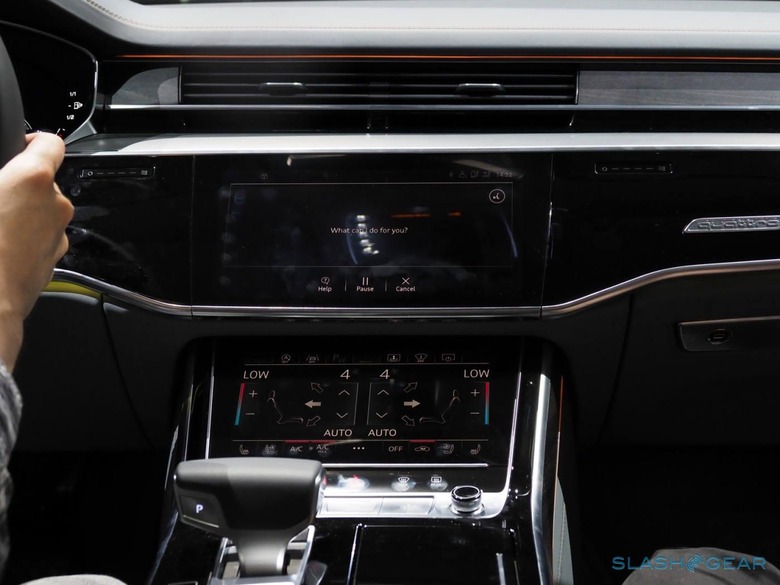 Audi is calling it MIB 2+, or the second-generation of its Modular Infotainment Platform, and it's running on NVIDIA's K1 processor. A second K1 is dedicated to the 1,920 x 720 Virtual Cockpit, while there's Bang & Olufsen 3D audio and Voice over LTE (VoLTE) digital calling.
For tech fans, it's the new A8's self-driving abilities that will likely be of most interest. Audi is billing it as the first production car with Level 3 autonomy: that effectively means it falls short of what most would consider a truly self-driving car, which would be Level 4, but outperforms the current crop of Level 2 vehicles on the market. In the A8's case, it's dubbed the Audi AI traffic jam pilot.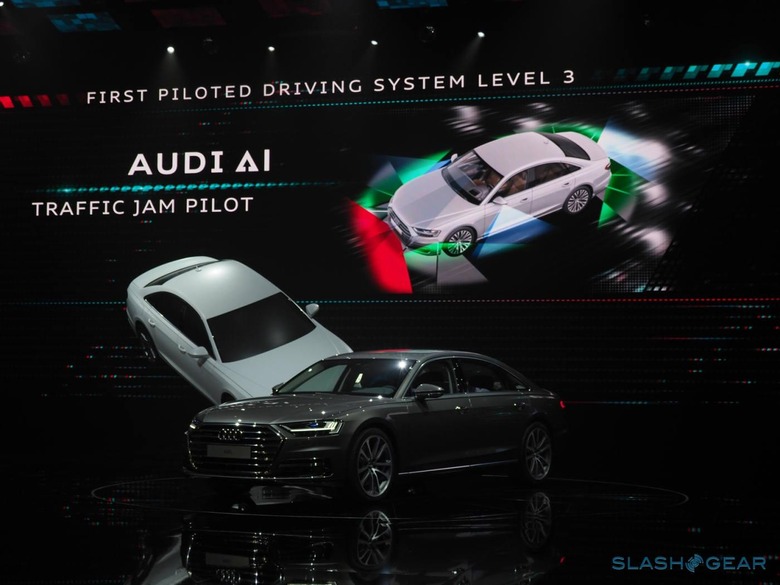 As the name suggests, the goal is to remove workload from the person behind the wheel in slow-moving traffic. Hit the traffic jam pilot button, and the new A8 can drive itself at up to 37.3 mph, handling acceleration, steering, and braking in the lane. Indeed, Audi says that they'll be able to take their hands off the steering wheel permanently, and even distract themselves with other things of interest, like watching TV.
There are some caveats, of course. Along with the speed limitation, there are also demands on the sort of road traffic jam pilot can handle. It's designed for freeways and highways, where a physical barrier separates the two carriageways. If the system has a problem, or reaches its maximum speed for operation, it'll call the driver's attention back to take over.
Under the hood, traffic jam pilot relies on a whole host of new sensors. A "central driver assistance controller" (zFAS) pulls together data from radar and ultrasonic sensors, plus the front camera, and a new laser scanner, building a real-time image of what's going on around the car. The complexity of that, plus the regulatory barriers in each country, means Audi won't be enabling traffic jam pilot universally from the offset, but rolling it out progressively from 2018.
To keep owners patient, Audi AI will have some other talents. Notably, the remote parking pilot and remote garage pilot will be able to move the A8 in and out of parking spaces or garages, without the driver behind the wheel. It'll all be controlled from the Audi app, which will show what's happening 360-degrees around the vehicle as it slowly moves into place.
Under the skin, there'll be five different engine options for the regular A8, depending on geography. First up will be a 3.0-liter V6 turbo, in gas and diesel forms, with 340 HP and 286 HP respectively. A pair of 4.0-liter eight-cylinder versions will follow shortly after, with the gas version offering 460 HP and the diesel 435 HP. Finally, there'll be a 6.0-liter W12, with power yet to be confirmed.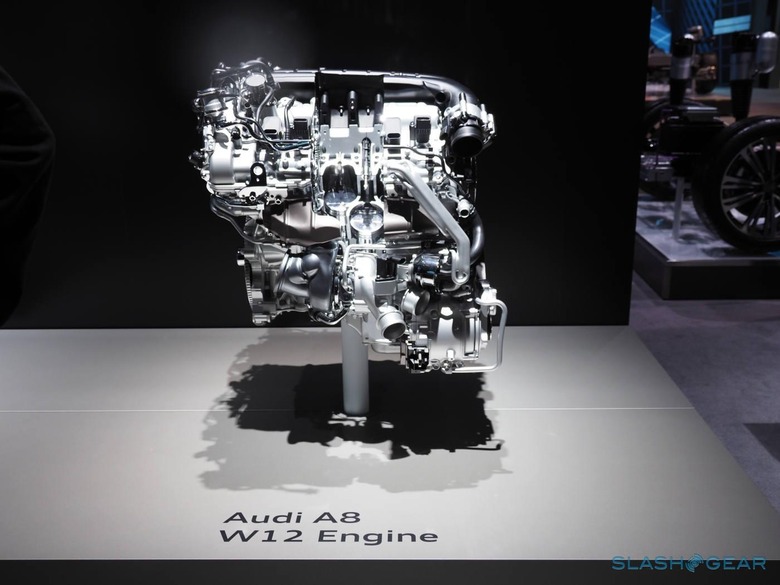 As for the A8 L e-tron quattro, that'll get a plug-in hybrid powertrain. It'll combing a 3.0-liter gas engine and an electric motor, for 449 HP and 516 lb-ft. of torque. Audi expects it to be able to run around 31 miles on a full charge, and there'll be an optional Audi Wireless Charging pad that, when the car is parked on top of it, will recharge the battery at 3.6 kW without any physical connection between the two.
That's not the only electrical cleverness, mind. A new 48 volt electrical system will bring mild-hybrid features to the A8, helping the car to coast with the engine switched off and then restart in an almost imperceivable way. Audi says it could save up to 0.2 US gallons per 62 miles of driving.
Audi AI will have a hand in the optional active air suspension, with each wheel individually controlled and four driver-selectable ride height levels. It'll automatically raise the car in the case of an accident, as well. All-wheel steering is optional too, while an 8-speed transmission is standard.
Throw in de-rigeur luxe features like onboard fragrance diffusers, self-closing doors, and LED ambient lighting with multiple colors, and you start to get one of the most advanced executive cars around. The new A8 and A8 L will go on sale in Germany in the late fall of 2017, priced from 90,600 EUR ($103k) for the A8, and 94,100 EUR ($107k) for the A8 L. US pricing and availability are yet to be confirmed.