Meebo adds support for Facebook and MySpace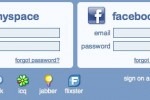 For those of us who would like to have all of our instant messaging services open but do not like having all the windows open and do not want to download yet another application, Meebo is the perfect web-based instant messaging service.
Meebo allows you to log into your favorite instant messaging services such as AIM, GTalk, ICQ, Jabber, MSN, and Yahoo without ever downloading and installing a single thing. Now Meebo has expanded their services by adding support for Facebook and MySpaceIM. Now you can talk to just about anyone without downloading a single thing.
If you're looking for a single downloadable client that allows access to several different instant messaging services we suggest you go download Pidgin, Trillian or Adium (for Mac).