Medium replaces passwords with secure email links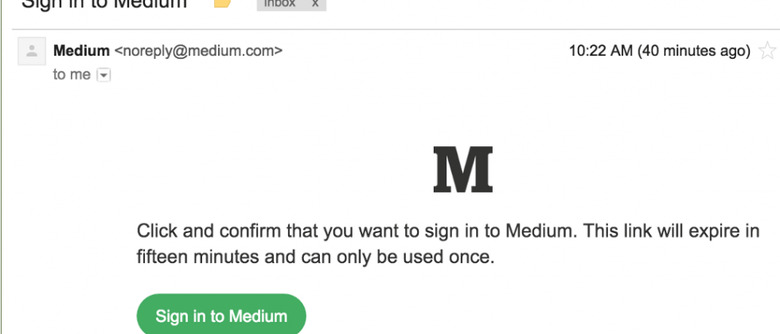 Medium, the stylish blogging platform/social writing network, has just announced a big change in the way users sign in to the service. The site has done away with passwords altogether, as well as the requirement of using Twitter or Facebook to log in, and will now have users gain access to their account through a single-use link sent via email. If you've ever had to reset your forgotten password for your email or other social network, you know how it works.
Here's how it works if you're not familiar with that process: If you go to Medium and want to sign in, you'll click a login button and type your email address. Check for a new message from Medium which contains a link that, when click, will take you to your account. That's it. The links can only be used once, and will expire after 15 minutes.
The site sums up their theory behind the change in a new blog post. "Passwords are neither secure nor simple. They're hard to remember or easy to guess, everyone re-uses them (even though they know they shouldn't), and they're a pain to type on mobile. They don't even keep you that safe."
Users can still sign in with their Twitter and Facebook accounts if they choose, and new users can connect those accounts when they first sign up for Medium. This new sign in method is available now on the web, as well as the iOS app, with an update for the Android app coming soon. Users who click the emailed link while on a mobile device will even be taken right to the app.
SOURCE Medium