Mechanical Spider Pwns J00 All!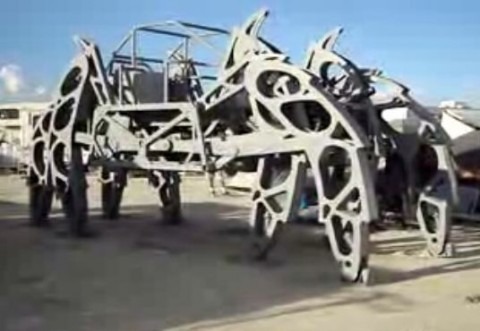 This thing is freaking amazing, its made out of metal, can carry up to 8 people, and each "step" takes it 5 feet closer to its enemy, er, destination. It has a 454 Chevy V-8 engine that powers it with the current final drive ration being about 125:1.
It weighs 6 tons, stands 11 feet tall, 23 feet long, and 8 feet wide. In between the engine and the legs there is a pair of Klune Extreme Under Drive Planetary gear boxes, a Rockwell 2.5 ton military axle and some crank shafts for each of the legs.
There is even a built in elevator, of sorts, to get the passengers and driver up to their seats. Apparently its really close to being done, all I know is it looks freakin' sweet and I want one.
[via gizmowatch]