McLaren 675LT Spider First Drive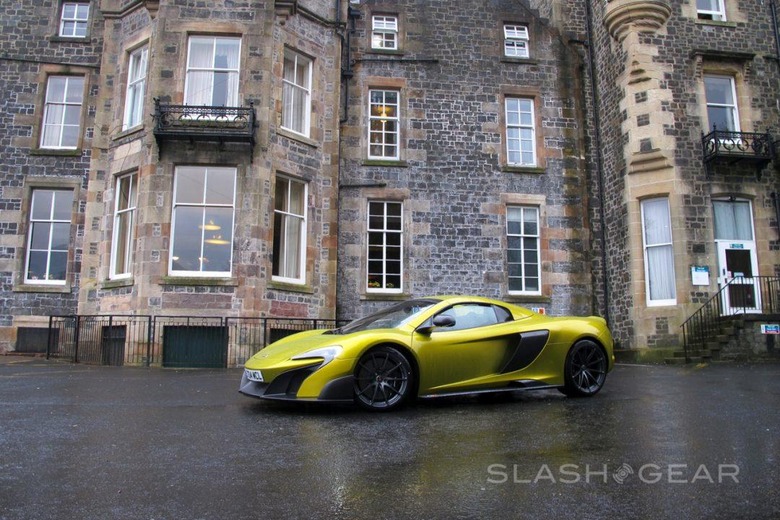 I'm piercing the Scottish idyll in the McLaren 675LT Spider, and 25 feet to either side I imagine observant lichen rattle in the wake of the LT's turbulence, smugly impressed before reverting to their simple-life ways. Only a road definitively signals that man has actually been here before, and in this setting one could plausibly argue that asphalt is a natural phenomenon.
I don't know about the Lochness Monster, but I can definitively verify that the Loch Lomond Monster is absolutely real, and it's McLaren's most driver-focused rocket, here in gloriously topless form. And while we just happen to be in Scotland testing McLaren's fastest convertible ever, we could just as easily be elsewhere and it would assume the role of whatever mythical beast the locals could conjure.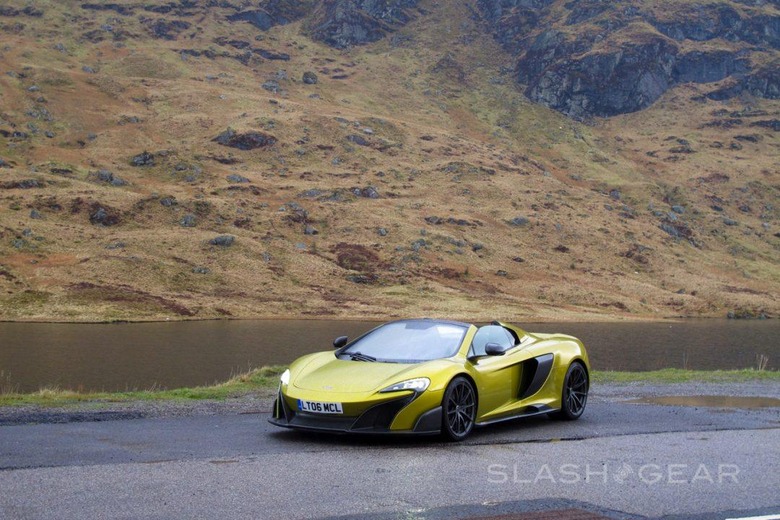 In this pleasingly remote stretch of earth, McLaren's latest punctures the atmosphere with its 666 horsepower—coincidence? we think not—and 516 lb.ft.-rated 3.8-liter twin-turbo mill. Power is seemingly always at the ready, as Britain's newest torpedoes to 60 mph in a blurry 2.9 seconds (Two-Point-Nine, let that sink in a moment). McLaren is actually more impressed with the 0-200 km (124 mph) time of just 8.1 seconds, as well they should be; A Porsche 918—at more than twice the price—can only do it a second faster. Top speed? Two-oh-three.
The supercar numbers are very much there, but what exactly is the McLaren 675LT Spider, and where does it fit? First, you have to look at the McLaren 650S Spider, which could have sat happily anchoring the Super Series performance-verified crown—along with its coupe brother of course—atop the current McLaren stable. But McLaren is cheeky (thankfully for us), and wasn't satisfied until it pushed that envelope further.
The result was not just a mere engine tune and fancy-badge-swap, but a holistic rethinking of every component that was keeping the 650S Coupe and Spider from further greatness. Unsurprisingly, a key focal point was weight. Like a heavyweight champ preparing for that next bout against a scary-quick contender, engineers had to get clever and look for every edge.
Everything was considered, down to the electrical wiring harness. Who knew you could remove 7 pounds out of the wires alone? The windshield is 1 millimeter thinner, and just shaving that minuscule amount pares another 6.6 pounds.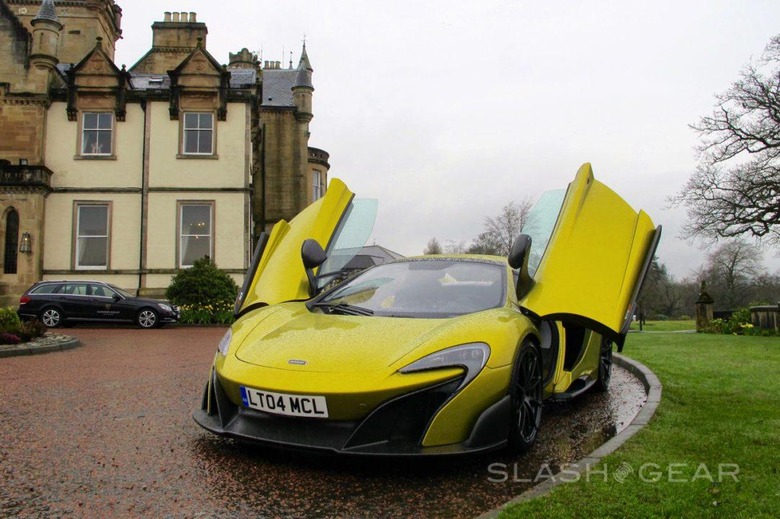 McLaren gave its signature engine the comb-over as well, giving it new camshafts, and it didn't stop there — more than 50-percent of the engine was revised to shed every ounce possible. All totaled, the 675LT was a whopping 220 pounds less than the 650S, while at the same time increasing power, 25 ponies to be precise. Add 88 pounds for the Spider's touch-of-a-button mechanical hardtop, and the power-to-weight ratio of 4.2 pounds-per-horsepower still puts it in a class with the most elite automobiles.
And to be clear, there's a lot more at play than just weight and more power. Engineers targeted the usual suspects: they wanted to also improve aero, and optimize driver engagement and track dynamics. Due to the inherent strength of McLaren's MonoCell chassis, further strengthening wasn't necessary. But the changes that were made are numerous.
The turbochargers were revised to be more efficient, with better compression and flow rate. The seven-speed automatic transmission technology was pushed to allow downshifts that are twice as fast. The front end was lowered by 20mm, but the back remains the same, which changes the rake. Downforce is increased a staggering 40 percent. The road springs have been stiffened 27 percent in the front, 63 percent in the rear. It's enough to make one want to jump in the 650S, and then hop into the 675LT right after for comparison. For the moment however, we'll be a little present and just appreciate this grandiose luxury.
The current scene is the typical Scottish countryside, but in a way this 675 LT almost naturally lends itself to the environment. The dark, murky waters of the loch to my left, and the yellow spring grass and moss almost mirror the car's colors, reflecting the sculpted carbon fiber door sills, and exclusive Solis yellow paint of the 675LT Spider and Coupe. The refreshing absence of advertisements, buildings, or even other humans gives one time to ponder things.
First, why is it called LT? The simple acronym stands for Long Tail (Longtail), an ode to McLaren's dreamy F1, something McLaren would be right to allude to every chance it gets. But "LT" is more in spirit than actual tail. The 675LT is less than two inches longer in reality, and the extra length comes way of body panels and splitter, rather than tweaking with the carbon-tub.
That's very likely a good thing, because as I depress the throttle speed comes on impossibly quick, the undulating country asphalt that leads into the right-hander up the road is almost immediately under the wheels and a quick steer to keep us in our lane proves effortless, the chassis quietly composed, unfazed during turn in. The complexity of everything that just occurred is buried under sonorous engine note that engulfs the whole of your attention, but a couple things are worth noting.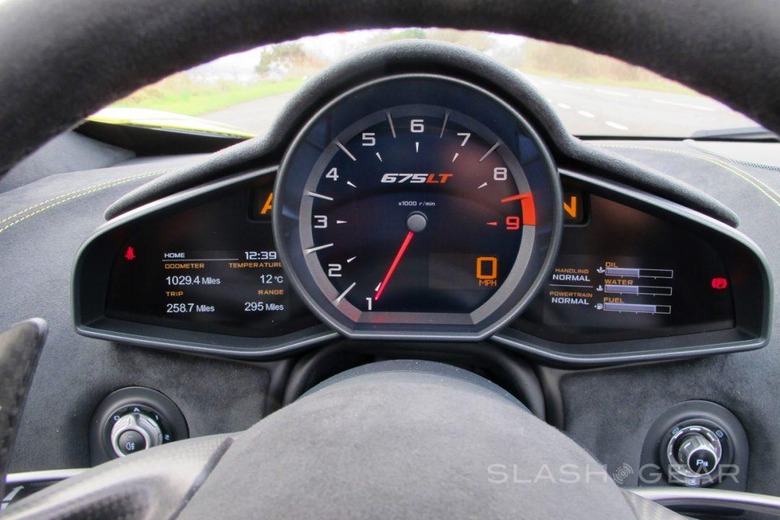 The amount of intricacy and nuance in the 675LT's suspension system is quietly at play to the oblivious driver, as it is to the engaged one, as it should be. But what's actually going on is this: McLaren's ProActive Chassis Control is using two systems in one piece of hardware. Namely, adaptive damping, and hydraulic roll control. The first, the adaptive damping is an active system that responds in real-time to input from the wheels. The amount of damping depends on the road conditions, but also which driving mode you're in. This part is fairly standard on supercars, and even good sports cars.
Here the system balances the coarse Scottish asphalt with my desire to remain in Sport mode. The four twin-chamber dampers—using the electrical steering pump and the same fluid as the power steering system—monitor feedback and road conditions and adjust, nonstop. Alternately, the roll control system is passive, but it's the interconnected hydraulic system that connects all four adaptive dampers to one another that is unique.
The roll control increases stiffness in conditions where you would experience high levels of roll, and lowers stiffness in other conditions. Roll is twice as rigid in Track mode as normal. In fact, I found Track mode far too stiff for these roads in any conditions, not just under roll. Track mode—unsurprisingly—is best saved for the track. Normal, as it turns out, "is essentially what the Sport mode is on the 650S," says McLaren.
And while Normal was actually anything but, here in these conditions, and with these surfaces, Sport seemed to make both myself and the Spider happiest. Steering is so precise, that you forget in a way that you are actually, physically steering. It feels more like mind control is bending the road to your whims, or at least pointing the car to exactly where you want to go. Soon a relatively straight section comes up, I can see down a few miles ahead, the coast gloriously clear.
Immediately the massive front air intakes and splitter begin earning their keep, swallowing up cold, damp Scottish air with zeal. At some point I hear a little whirring coming from the back, the Airbrake has surfaced to help keep the giant wheels planted on the ground, and me closer to the earth. The Longtail Airbrake is actually 50 percent larger than on other Super Series cars, but weighs less. Seems everywhere, everything weighs less.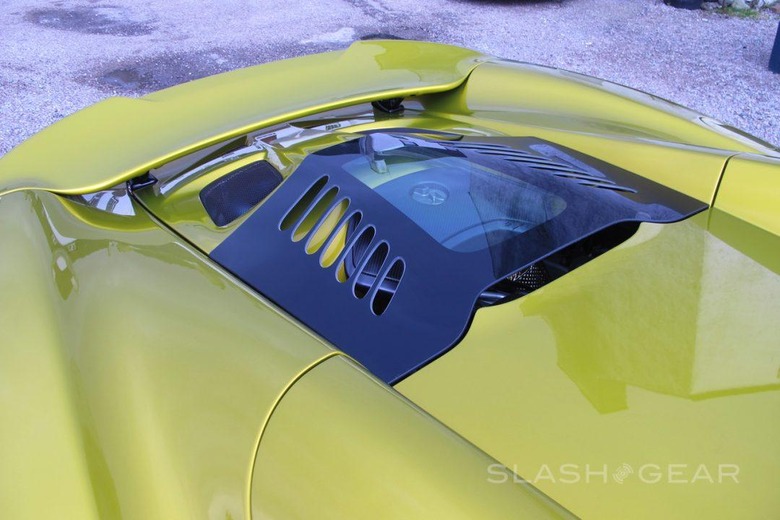 I'm almost surprised McLaren bathed the LT's interior in Alcantara, and not some newer, space-tech lightweight material. And while the Alcantara and bare carbon fiber are luxuries, this car doesn't have all of the drama of the competition. Everything is clean, purposeful, and streamlined. The drama is reserved for the road (and those magnificent doors).
Is it faultless? Not quite, but you have to really search to find things. While the car sounds fantastic, the Ferrari 488 Spider tweaked their twin-turbo's aural symphony to new heights, and I think it sounds better under aggressive driving. But that raises an interesting point.
Normally, when a grin this large is on my face, the wheel has an Italian prancing horse, or bull on it. Is the McLaren 675LT Spider in the same class as the Ferrari 488 Spider, or Lamborghini Aventador Spyder? Yes, it most certainly is. Is it better? Before having driven McLaren's topless rocket, I wouldn't have thought it could be. Now, I'd have to drive them all back-to-back on the same roads to really know for sure, which says a lot about how good this supercar really is.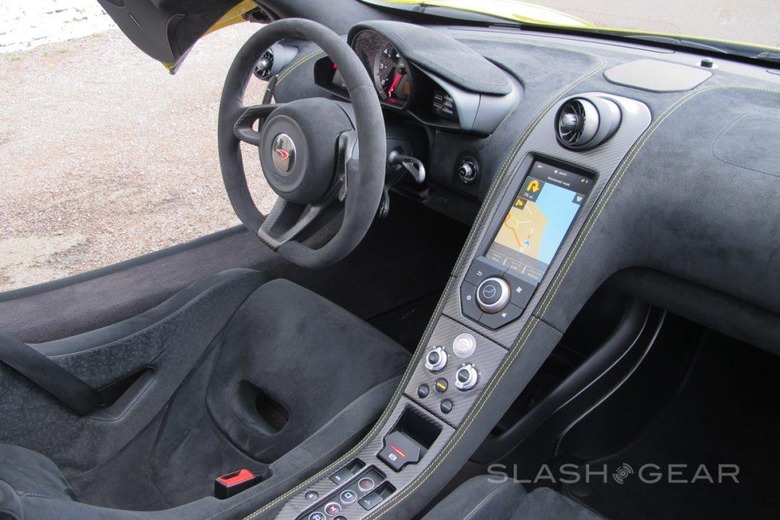 Is it worth the $400,000 asking price? We'll save you a little time here, as you couldn't buy it for $400k even if you wanted to — the 500 McLaren 675LT Spider models were spoken for in a mere couple of weeks. Take our word for it, owners will not be disappointed.