McLaren 650S Spider Al Sahara 79 is a bespoke car only for the Middle East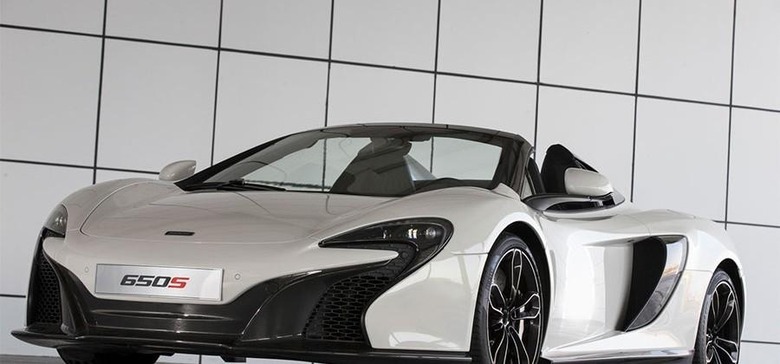 McLaren Special Operations (MSO) is the arm of the supercar company that builds customized versions of McLaren cars for the wealthy who want something you can't get off the rack. The latest creation by McLaren MSO is a car called the 650S Spider al Sahara 79. The car debuted at the Dubai International Motor Show and is only available in the Middle East.
The car has a special paint scheme that is called pearlescent white gold and that paint has real 24k gold particles in the paint to get the shimmer. The gold in the paint is also where the 79 in the name of the car comes from; the atomic weight of gold is -79.
The retractable hard top and wheels are finished in gloss black. The side intakes, front splitter, MSO badges, and rear diffuser are carbon fiber. Inside the car is black and almond white leather with contrasting stitching.
The gold scheme is on the inside of the car as well with gold rings around the vents and switchgear. Other than the fancy paint and finishes the car is a standard 650S Spider packing 641hp and 500 lb-ft of torque.
SOURCE: Carscoops