Mazda2 B-Spec racecar unveiled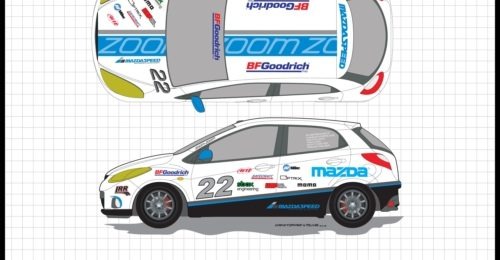 I've been an avid road racer for years now and I can tell you from experience, it's not a cheap hobby. A racecar can cost you tens of thousands of dollars to begin with and then maintenance and upkeep for consumables like tires, brakes, and other miscellaneous bits can cost you that much or more over a couple seasons of racing. Mazda knows how expensive racing can be and has unveiled a new factory racecar in an attempt to make racing more affordable for us normal folk.
The racecar is the Mazda2 B-Spec and the car fits into the showroom stock racing level. Mazda says that the B-Spec is "showroom stock racing at the most basic level." You can't expect to take one of these little B-Spec cars to the track and beat the Mustangs or Corvettes in a straight line. However, a good driver can torment those faster cars, bringing a grin to their face and those watching from the grandstands.
Mazda says that it sells the B-Spec "kit" for $2575. Mazda doesn't exactly say what that kit includes, but it's likely packed with things like stickers for the series and maybe some suspension goodies. Mazda sells a similar kit for Spec Miata racing. Other than the $2500 kit, the driver will obviously need the basic car and safety equipment.
Mazda figures starting with a used Mazda2, a racer could be ready to hit the track for about $15,000. A racer who doesn't have the time to turn wrenches themselves can buy a car ready to race from a prep company for about $25,000. That sounds like a lot of money, but in the racecar world is actually pretty cheap. Mazda is also piling some contingency cash into the series offering a driver winning a SCCA or NASA National Championship $5000 and shot at driving in the Mazda Club Racer Shootout worth $75,000.