Mazda motorsports races diesel Skyactiv-D cars in Rolex 24 at Daytona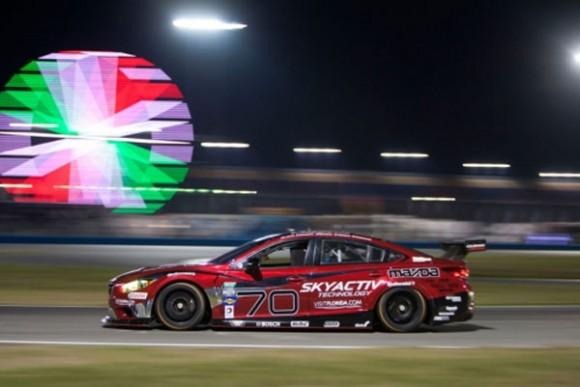 Cars powered by diesel engines are not very common in the United States. In Europe, diesel engines are very common in cars, but in the United States, we typically only see diesels in a few Volkswagen models. Over the next few months that will be changing as Mazda will be unveiling a diesel power plant for its new Mazda6.
The diesel engine that will be used in the car is called the Skyactiv-D, we tested out a SUV with the gasoline version of the Skyactiv engine in the past. Mazda Motorsports fielded three diesel-powered entries at the Rolex 24 at Daytona endurance race. None of these three vehicles were able to complete the race, with at least two going out with engine failure.
While the racecar looked a lot like the Mazda6 on the outside, it was built on a Speedsource tubular space frame. However, much of the diesel engine powering the car was stock. Mazda said that the engine had 60% stock components including the engine block and head. The engine is a 2.2-liter in-line four-cylinder turbo diesel producing 400 hp at 5000 RPM and 445 pound-foot of torque at 3600 RPM.
The vehicles raced in the new GX class where 400 hp was the target power range. Mazda says that a production-based version of the 2.2-liter Skyactiv-D diesel engine will be available in the second half of 2013 for retail sale. Pricing for the diesel engine option hasn't been announced this time.