Mazda Kai Concept and Vision Coupe need to go into production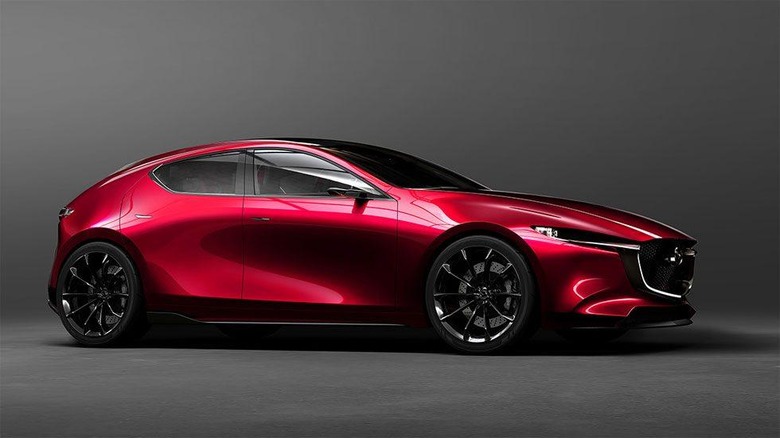 Mazda is showing off two of the best looking concept cars in the entire Tokyo Motor Show with its Kai Concept and Vision Coupe. If the next Mazda 3 series looks like the Kai Concept, Mazda will have hit a home run. The sleek shooting brake style is very appealing and the concept has a very sporty appearance.
Mazda calls the Kai Concept styling KODO and says that it is the ideal vehicle powered by a combustion engine. The concept uses a SKYACTIV-X gas engine with next generation SKYACTIV-VEHICLE ARCHITECTURE platform. The outside of the car is very clean and rounded with few harsh lines or creases.
The design is a hatchback with glass panels on the roof to let in some light. Inside the car, the interior is designed to hone the "Jinba-ittai" connection between driver and car. It's a dark interior with muted red trim that is simple, elegant, and very cool. The dash appears to have a large screen that shows nav and other data on it.
The Mazda Vision coupe uses the same KODO design language and while it has more angles than the Kai Concept, the overall look is still very flowing and curved. The car is very attractive with a long hood and short overhangs giving it sporty style.
The exterior of the car lacks door handles and appears to use small cameras in stalks on the doors rather than normal mirrors. The lack of handles makes the body very smooth and flowing, it's a beautiful car. If production models look similar to these concepts, Mazda will have some of the best looking cars on the roads in its stable.
SOURCE: Mazda