Maxtor OneTouch 4 External HDD For Backups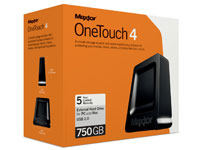 This external hard drive is awesome, and should take all the worry out of a head crash. It can do one touch backups, syncing, and more. My favorite part is its ability to sync your entire hard drive, which I would guess (and hope) is in the form of a disc image since there is a disk that comes with the drive that is bootable that will allow you to restore everything that was on your HDD should something go awry.
Then there is the syncing feature which allows you to use the external hard drive as a go-between from one computer to another syncing the files of each computer to the other, or at least the ones you specify. And all that only takes a few mouse clicks.
The backup can be done using the pre-packaged software (which you probably have to run at least once to set it up) and then you can just hit the big button on the front as you walk out the door from then on. But unlike most external hard drives that offer one-touch backups, this one has security built in with the ability to password protect the contents of the external HDD, including your backups. You can get it in 250, 500, and 750 gigabyte capacities for $99.99, $169.99, and $269.99 respectively.
[via coolest-gadgets]