Matrox Debuts New Extio F2208 Fiber Optic KVM Extender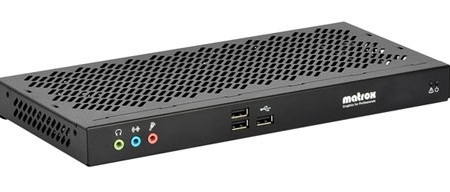 If you work in the corporate setting and you need to shoot the display, keyboard, and mouse control from a computer in one room to another facility on the same campus or a really long distance away in a large building Matrox has a new KVM extender for you. The device is called the Extio F2208 KVM Extender and it supports dual monitors. The range of the KVM extender is a whopping 1KM using fiber optic cable.
The F2208 uses bus extension technology with a special PCIe bus card to shoot raw, uncompressed data over single or multi mode cable. The device has enough bandwidth to support resolutions up to 2560 x 1600 for each monitor without any issues. The two supported displays can use DisplayPort, digital, and analog inputs. The DisplayPort supports 2560 x 1600 and the other two ports support 1920 x 1200.
The KVM extender has five USB ports that allow the remote user to use keyboard, mouse, touchscreen, and other input devices from up to a kilometer from the actual computer. The KVM has BIOS level keyboard support that means the keyboard on the user side can access the computer BIOS. The KVM is also passively cooled making it silent and it will work with Windows and Linux machines. Matrox is mum on pricing at this time.