Massive crack appears in Wyoming mountains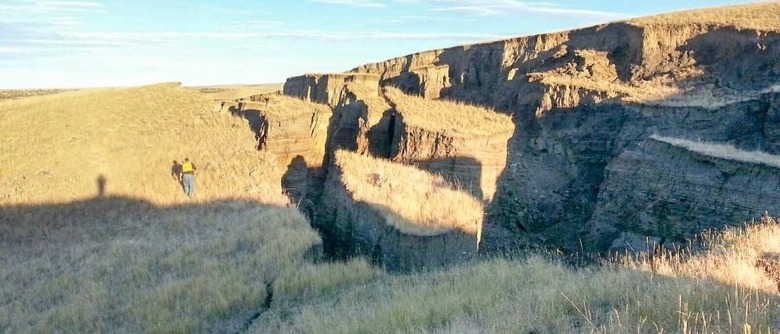 For better, worse, or reasons unknown, the ground sometimes opens up and swallows whatever happens to be above it. These events usually happen in the form on a sinkhole, but a different sort of fissure has been discovered in Wyoming. A group of hunters recently stumbled across a massive "crack" in the Wyoming mountains, something some viewers have started calling a mini Grand Canyon.
An image and news of the crack first surfaced via SNS Outfitters and Guides, which posted an image on its Facebook page. The company later followed that image with an update explaining that it had talked to an engineer about the crack in hopes of getting more details. The update reads:
Since so many people have commented and asked questions, we wanted to post an update with a little more information. An engineer from Riverton, WY came out to shed a little light on this giant crack in the earth. Apparently, a wet spring lubricated across a cap rock. Then, a small spring on either side caused the bottom to slide out. He estimated 15 to 20 million yards of movement. By range finder, an estimate is 750 yards long and about 50 yards wide.
The crack is located on a private ranch in the Bighorn Mountains; according to a local news site, it is positioned about 10 miles south of the city of Ten Sleep, Wyoming. The crack's discovery was first reported on October 23.
SOURCE: The Weather Channel