Massachusetts State Police test Boston Dynamic's robot dog Spot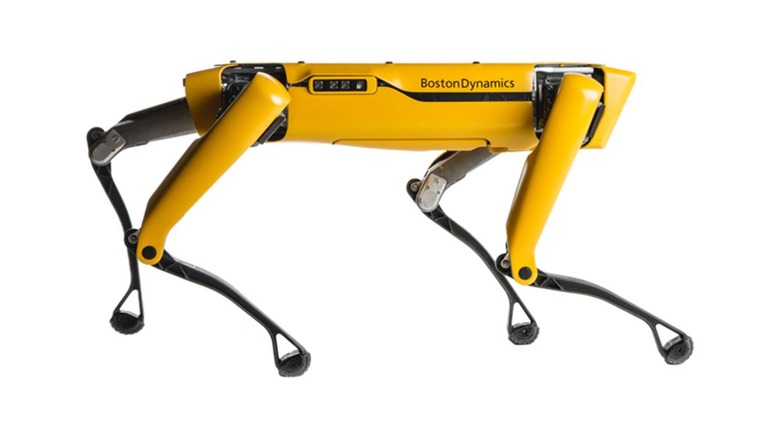 Massachusetts State Police was officially the first police department in the United States to test the use of a robotic dog named Spot from Boston Dynamics. News of the test was first revealed in documents obtained by the ACLU; the robotic dog was in use for non-weaponized purposes from August to November of this year. The test raises concerns over the potential use of intelligent robots by law enforcement.
According to the documentation shared by WBUR, Boston Dynamics allowed the Massachusetts State Police to lease Spot for 90 days. The robot was used by the department's Bomb Squad for various non-weaponized purposes, 'particularly remote inspections of potentially dangerous environments,' the agreement states.
The test lasted from August 7 to November 5 and was confirmed by a department spokesperson to WBUR. In addition to being used for testing, the bomb squad used Spot in two different 'incidents.' As part of its agreement with Boston Dynamics, the robot couldn't be weaponized — its use was entirely for helping protect humans from potential harm.
Boston Dynamics describes Spot as durable with an IP54 rating and the ability to operate in temperatures ranging from -20C to 45C. The robo-dog features 360-degree vision made possible by stereo cameras, as well as an arm with a payload capacity of 30.8lbs.
Customers are able to customize Spot using an API, making it possible to tailor the robot to specific needs. The Massachusetts State Police didn't utilize this feature as part of its test, however. Boston Dynamics envisions the robot as useful for other purposes, including construction, public safety, and entertainment, among other things.
Though this is the first time Spot has been tested by law enforcement, this isn't the first time a police department has utilized technology to scope out environments. A number of departments around the US have dabbled with drones for monitoring crowds, for example, and bomb squads have historically used robots to help assess environments and deal with potential explosives.