Mary Meeker presents latest Internet Trends at D10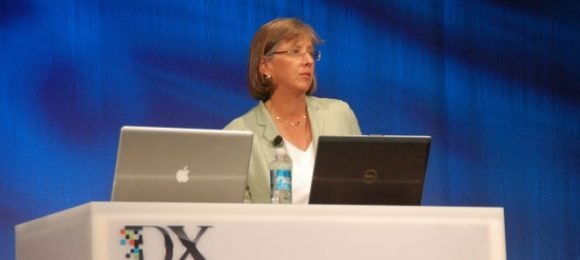 Mary Meeker, a partner at Kleiner Perkins Caufield Byers (KPCB), presented her latest Internet Trends report at the All Things Digital D10 conference this morning. Meeker's annual state of the web presentation has always been a highlight of the conference, delivering a comprehensive summary of what's happening in tech. This year it's a massive 112-slide deck focused on mobile adoption and its resulting requirement of re-inventing business models.
Although mobile web use is growing, Meeker finds that there is still plenty of growth potential as current global penetration was found to be only 32 percent. There are 1.1 billion global mobile 3G subscribers, an 18 percent penetration, compared to 2.3 billion global Internet users. Mobile phone users are increasingly switching to smartphones, but there's still a long way to go as there are only 953 million smartphone subscriptions out of the global 6.1 billion mobile subscriptions. Additionally, app makers have not been able to turn those new users into revenue as quickly as expected.
However, Meeker does expect this to change and for mobile web usage revenue to surpass that from desktop usage. Mobile revenue still heavily relies on in-app purchases, which accounts for 71 percent versus mobile advertising at 29 percent. CPM rates are also currently much lower for mobile ads by as much as five times. Meeker believes that that the monetization gap will take another one to three years to close, when mobile web revenue will surpass desktop web revenue.
[via CNET]