Marvel's Avengers release date revealed alongside first trailer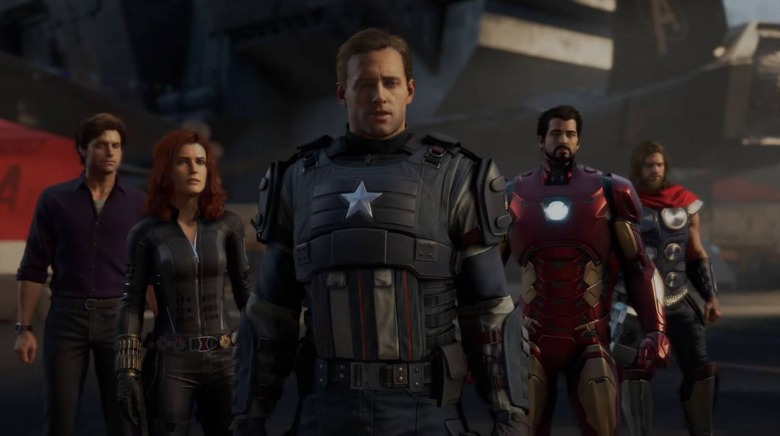 One of the headliners going into Square Enix's E3 2019 press conference this evening was undoubtedly the upcoming Avengers game from Crystal Dynamics. Square Enix saved the biggest announcement for last, closing its show by finally giving the game – which is simply called Marvel's Avengers – a full reveal. While we don't always expect to hear talk of release dates when a game has just been revealed, Square Enix surprised us there too.
The story for Marvel's Avengers picks up on A-Day, where the Avengers – Captain America, Iron Man, the Hulk, Black Widow, and Thor (sorry Hawkeye) – are set to unveil their new west-coast headquarters in San Francisco. The pleasantries don't last very long though, as a catastrophic accident involving the Avengers' new hellicarrier leaves a bunch of people dead and puts superheroes on the wrong side of public opinion.
Fast forward five years later and the Avengers have disbanded and superheroes in general have been outlawed. That isn't stopping the evil forces of the world, though, so the Avengers are forced to assemble once again to tackle this yet-unseen threat.
That, it appears, is where we take the reins. Crystal Dynamics and Square Enix revealed today that Marvel's Avengers will support four-player co-op gameplay (though you can also play solo if you like), which is precisely what you'd expect from a video game centered around a team of heroes. Over time, we'll see new heroes join the Avengers roster as well, with Ant-Man teased as the first add-on hero.
Crystal Dynamics also revealed today that new heroes and regions will be added to the game as free updates post-launch, and that Marvel's Avengers won't have loot box mechanics. We're don't really have a full picture of the post-launch monetization strategy yet, but with heroes being free and the promise of no loot boxes now on the record, it sounds like cosmetics will play a part.
Marvel's Avengers will be launching on Xbox One, PlayStation 4, Google Stadia, and PC on May 15th, 2020. Square Enix announced that it has partnered with PlayStation for this release, so those who pre-order on PS4 from the game's official website will get first access to an upcoming beta for Marvel's Avengers. We'll keep an ear to the ground for more, so stay tuned for that.