Marvell and Harman Bringing Integrated Mobile Hotspot Options to Automobiles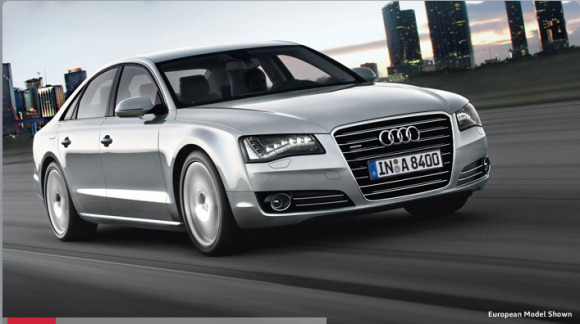 When it comes to the automotive industry, there's plenty of big names to play around with, as you think about what kind of features you want to have installed. It gets better when two huge companies, linked to the automotive industry, team up to bring you the coolest in new features, already tucked away inside. So what happens when you get one of the biggest names in-vehicle infotainment (Harman), and one of the largest names in integrated silicon solutions (Marvell)? You get integrated WiFi, of course.
Marvell and Harman have just announced that the two companies will be working hard on bringing integrated WiFi services into the vehicle. Utilizing Marvell's Mobile Hotspot (MMH) technology, the two companies are going to offer automakers the ability to integrate WiFi, making it possible for the vehicles to natively become your mobile workshop, or whatever else you need it to be.
The first car to get the WiFi treatment, will be the 2010 Audi A8, which is currently available overseas. And, what makes it better, is that it's already integrated with the MMH technology. There's a built-in WLAN module in each WiFi-equipped Audi A8, letting up to 8 different devices connect to the low power consumption WiFi connection. So if you've got a device that's WiFi enabled, then the A8 is the car for you. Of course, we don't have to say that that doesn't give you the option to use your device while you're driving. Keep that in mind. Press release below.
Press Release
New Audi 2010 A8 sedans first to feature a factory-installed Marvell Mobile Hotspot that turns car into a mobile office and entertainment center
SANTA CLARA, Calif., Aug. 9 /PRNewswire-FirstCall/ — Marvell (Nasdaq: MRVL), a worldwide leader in integrated silicon solutions, and HARMAN, the global automotive audio and infotainment leader (NYSE: HAR), today announced they are enabling automakers to offer integrated Wi-Fi connectivity via award-winning Marvell® Mobile Hotspot (MMH™) technology. The 2010 Audi A8 is the first automobile on the market to feature a factory-installed mobile hotspot, representing a significant milestone for in-car Internet technology. The 2010 Audi A8 with MMH technology is now available in Europe.
(Logo: http://photos.prnewswire.com/prnh/20100719/SF36559LOGO-b)
(Logo: http://www.newscom.com/cgi-bin/prnh/20100719/SF36559LOGO-b)
Marvell and Harman Automotive integrated MMH technology into the Audi vehicle through a built-in WLAN module, enabling high speed online and internet access via cellular link or Bluetooth connected mobile devices. The MMH technology implements a full-featured, WLAN access point integrated entirely on the wireless chip. The technology integrated into Harman connectivity system realizes a full-featured local Wi-Fi mobile hotspot within the vehicle, giving passengers access to Web-based services. Up to eight devices can be supported, from Smartphones to high-performance tablets and other advanced mobile devices like Wi-Fi enabled digital cameras, laptops and portable gaming devices.
"I believe today's consumers want the convenience of seamless connectivity and live content whenever and wherever they choose — whether in the home, office, classroom or automobile. Marvell is proud to be the industry driver of this new 'connected mobility' revolution," said Weili Dai, Marvell's Co-founder and Vice President and General Manager of the Consumer and Computing Business Unit. "Harman's solution for the Audi A8 sedan is a perfect example of using Marvell's live, always-on technology to bring the car fully into the broader connected ecosystem. Marvell's connectivity technologies transform the car into a mobile office and entertainment center, making accessible everything from productivity tools to passenger gaming and live media experiences. Finally, the car is connected to the rest of our lives."
"We are pleased to partner with Marvell in extending a key component of the mobile office concept to our customers through this milestone application," said Sachin Lawande, Harman Chief Technology Officer and Co-President, Automotive. "We are committed to providing a comprehensive in-car experience in cooperation with leading automakers, and the mobile Wi-Fi innovation takes this to a new level."
Marvell's unique Wi-Fi software architecture is optimized for extremely low power consumption on battery-powered consumer electronics, enabling passengers to connect to the vehicle's network without affecting the battery life of their connected devices. MMH technology provides a secure Internet connection with standard 802.11 WPA2 authentication and data encryption mechanisms.
About Marvell
Marvell is a world leader in the development of storage, communications, and consumer silicon solutions. Marvell's diverse product portfolio includes switching, transceiver, communications controller, wireless, and storage solutions that power the entire communications infrastructure including enterprise, metro, home, and storage networking. As used in this release, the term "Marvell" refers to Marvell Technology Group Ltd. and its subsidiaries. For more information, visit http://www.marvell.com.
About Harman
HARMAN (www.harman.com) designs, manufactures and markets a wide range of audio and infotainment solutions for the automotive, consumer and professional markets — supported by 15 leading brands including AKG®, Harman Kardon®, Infinity®, JBL®, Lexicon® and Mark Levinson®. The Company is admired by audiophiles across multiple generations and supports leading professional entertainers and the venues where they perform. More than 20 million automobiles on the road today are equipped with HARMAN audio and infotainment systems. HARMAN has a workforce of about 11,000 people across Americas, Europe and Asia, and reported sales of 3.2 billion for the last twelve months ended March 31, 2010. The Company's shares are traded on the New York Stock Exchange under the symbol NYSE: HAR.
Marvell and the M logo are registered trademarks of Marvell and/or its affiliates. MMH is trademark of Marvell and/or its affiliates. Other names and brands may be claimed as the property of others.
AKG, Harman Kardon, Infinity, JBL, Lexicon, Mark Levinson are trademarks of Harman International Industries, Inc., registered in the United States and/or other countries