Marvell 88SE9128 is industry's first 6Gb/s SATA RAID controller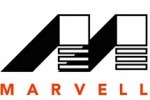 Earlier this week Seagate announced the first 6Gb/s SATA HDD called the Barracuda XT 2TB HDD. The new 6Gb/s HDD offers compatibility with an interface twice as powerful as previous hard drives.
Marvell has announced its new 88SE9128 6Gb/s RAID controller for the new SATA interface. A RAID controller is needed to allow users to run storage arrays with things like mirroring of the data for redundancy. The new RAID controller doubles the bandwidth previously available.
Marvell reports that it is working closely with mainboard makers like ASRock, Asus, Gigabyte, and MSI to bring mainboards to market with the 6Gb/s RAID controller. Seagate, Samsung, and Micron will be producing drives that take advantage of the new SATA speeds soon. Marvell is sampling the new RAID controller to tier-one OEMs now and the controller is set for mass production in Q4 2009.