Marshall Monitor Bluetooth Headphones claim 30-hour battery life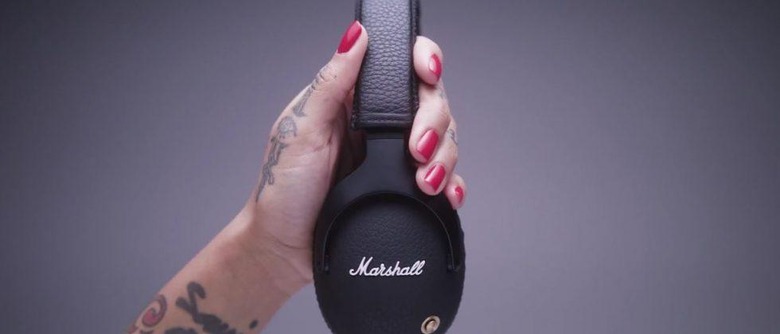 It seems that Bluetooth headphones are a dime a dozen these days, but Marshall is hoping it catches your attention with its new Monitor headphones. Marshall certainly has the fact that it's been waist deep in the music industry for 55 years going for it, but can these Monitor headphones stand out in a sea of other high-end sets?
From a design standpoint, Marshall certainly seems to have things on lock. The images Marshall has shared show off an aesthetic reminiscent of the company's amplifiers, and you could certainly do worse if you were looking for a snazzy pair of headphones. These also have the distinction of being the first over-the-ear headphones Marshall has ever produced.
Marshall has outfitted this set of Monitors with Blutooth aptX, which it says will offer a higher bitrate for better listening. Beyond that, Bluetooth aptX should also do something to combat desyncing issues between audio and video while granting the headphones a 30 foot wireless range.
What's particularly impressive, though, is Marshall's claim that these headphones will last "30+ hours" on a single charge. Your mileage will likely vary, but if real-world times come in anywhere close to 30 hours, that will be a great thing indeed. When they do eventually need more juice, you'll recharge them through microUSB, though you can also use the 3.5mm jack to turn them into a pair of wired headphones.

So, it would seem that Marshall has crafted a pretty decent pair of headphones with its Bluetooth Monitors. If you'd like to try a pair for yourself, you can pick them up from Marshall's website starting today. Get ready to plop down some cash, though, because these headphones will set you back $250.
SOURCE: Marshall