Mario + Rabbids versus mode brings a new type of battle on December 8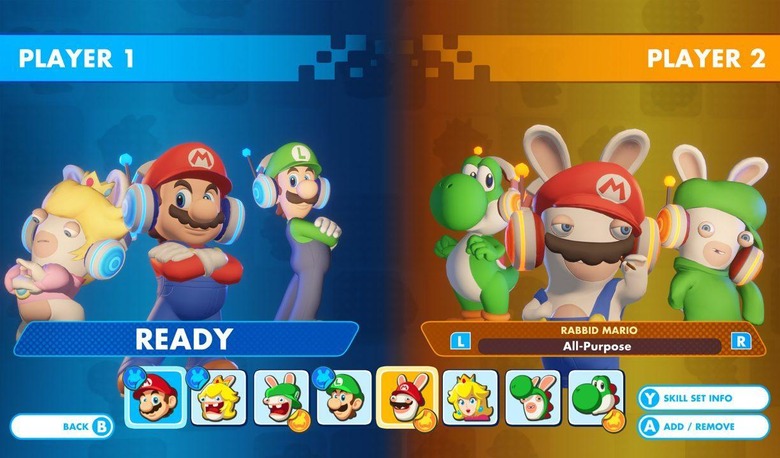 Mario + Rabbids will get a new "Versus mode" tomorrow, enabling players to challenge a friend on the same system in what is essentially a strategy game with big restrictions. Because of these restrictions (three available actions per turn, namely), players will need to think their moves out ahead of time, strategically using a three-character squad per game.
The new Versus mode joins the existing campaign and co-op, offering a new experience altogether. Players choose three heroes for their squad, then use three actions per turn to win. Those actions aren't per character — you have three total, meaning in some cases you may only use one hero per turn.
"Will you move all your characters into strategic positions," Ubisoft asks in its example of Versus mode game play, "or will you spend all your actions to, say, move Luigi into a sniping spot, activate his motion-attacking Steely Gaze, and then open fire on a juicy target?" The video above shows the new mode in action.
All eight characters will be available for players to choose from; they'll be the "beefy upgraded versions," Ubisoft explains. There are 16 unlockable variants, examples given being things like Mario's BIG Stomp loadout. The mode's characters are said to be evenly matched, but there are optional power-ups available throughout the maps that will give the players an edge.
Overall, Ubisoft says these Versus mode matches are designed to pass quickly, with users having the additional option to set limits of 7 or 10 turns in addition to time limits. Assuming you have the Nintendo Switch game, you'll be able to get the update for free starting tomorrow.
SOURCE: Ubi Blog