With the Switch launch out of the way and Breath of the Wild runthroughs being completed, it's time to turn our attention to the next major release for the Nintendo Switch. For some, that next major release is Splatoon 2 in June, but for others, it's Mario Kart 8 Deluxe, which is due out at the end of this month. The release of Mario Kart 8 Delxue could give us our first Switch console bundle, according to a listing on the Russian Nintendo store.
Uncovered by a Reddit user over on the Nintendo Switch subreddit, the promotional image for this bundle shows Mario Kart 8 Deluxe as a pack-in game for the Nintendo Switch. Just because a promotional image exists doesn't mean that we should get it excited, though – after all, it's entirely possible that this package (should it exist) will be exclusive to Russia.
Beyond that, there are a couple of curiosities about this package. For instance, the Nintendo Switch featured on the front panel has gray Joy-Cons, while the side panel shows neon Joy-Cons. It also seems strange that Nintendo would release a bundle this early in the game, especially since the lack of such a bundle caused a fair amount of controversy at launch.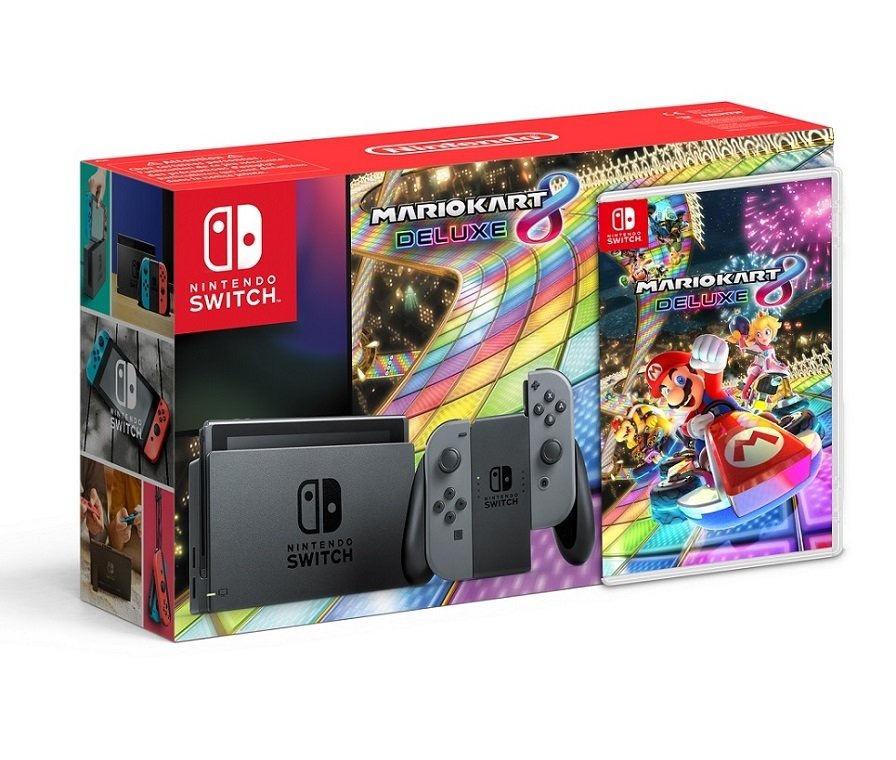 Still, this could very well exist, and if it's exclusive to Russia, it'll probably make a few people still hunting for a Switch quite sad. The timing of this listing is suspicious, as it just so happens that Nintendo is hosting a Nintendo Direct live stream later today. While the main focus will be Splatoon 2 and ARMS, there's always a chance that Nintendo officially announces this bundle during that broadcast.
That Nintendo Direct kicks off at 6:30 PM Eastern time, so maybe we've got some clear answers right around the corner. In the meantime, though, head down to the comments section and let us know if you'd pick up this bundle!
SOURCE: Reddit