Manhunt 2 is cause for bloody Wii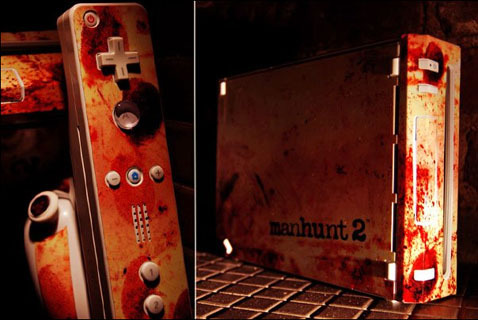 In today's crazy world its getting harder and harder to find a gaming system for the serial killer inside you. Rockstar games on the other hand have a contest to promote a game that will bring that serial killer in you out.
The best part, the prize is a blood-soaked Nintendo Wii with equally bloody controllers. They are motion sensitive too, so you can go ahead and start practicing your preferred stabbing motions now. The blood is actually just a really cool sticker kit, and I want one, both a Wii and the sticker kit, I'd take one of those sticker kits for my 360 for sure.
The company is also giving away a 50-inch plasma TV for you to play your new gory game system on. Manhunt 2 is coming out on Halloween (October 31st for those not in the know). I think El Dia De Los Muertos would have been more fitting since it's the day of the dead.
Wii Covered in Bloody Stickers [via Kotaku]