If you have ever fallen off a skateboard trying to ride it in your driveway, you know how hard it can be to ride one. A man named Mischo Erban recently sat a Guinness World Record for the fastest speed on an electric skateboard when he went 59.55 mph on one at Portoroz airport in Piran, Slovenia. The board the man used was a modified NEXTBoard created by a company called Next Generation Vehicles.
To control the speed that the board traveled at, the man used a handheld remote control. It appears that the record setting run was conducted on a flat runway with no hill to help him get to that top speed. The video accompanying the record setting run shows the man falling off the board once. He was kept safe thanks to what appears to be a motorcycle racing helmet and leathers.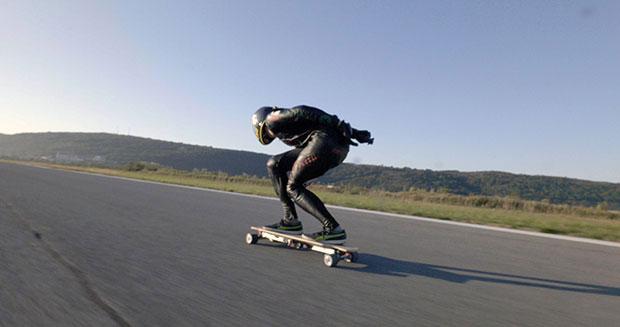 The NEXTBoard is a four wheel motorized longboard with four Scorpion motors with one motor in each wheel. Power for the electric skateboard comes from a pair of Tattu 6S batteries in series. The board needs 1.5 hours to change and has a range of 6-9 miles when charged and ridden at normal speed.
The designer and engineer of the NEXTBoard built the fast, modified skateboard when he found an old computer HDD with a giant motor in it that could power the longboard. Eventually he went on to design other motors using new and existing components. The rider had 100m to reach his top speed and this is the first time this record was set. Guinness World Records has some very odd records for things like the fastest mobility scooter and for the fastest riding lawn mower. The folks behind the book seem to be coming up with new and strange records all the time.
SOURCE: Guinness World Records