Mammoth skull found in Oklahoma sand pit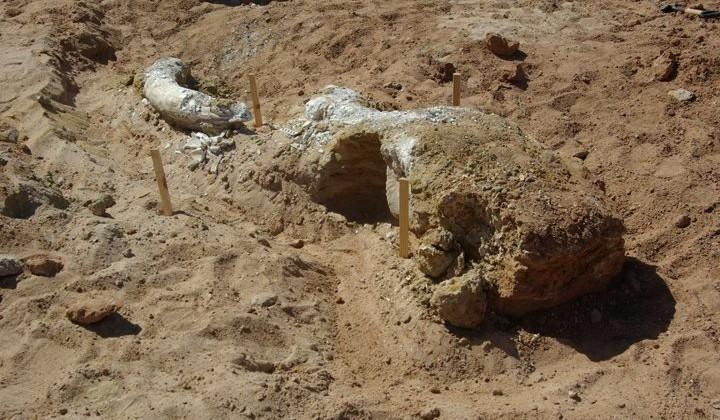 A giant mammoth skull has been unearthed in an Oklahoma sand pit, as well as fragments from a pair of tusks and some teeth. The skull is described as "partial," in that there are some pieces missing. However, images show that it is largely intact and is easily recognizable as a skull. No other skeletal parts are present around the skull, and there are no "cultural associations," according to the Oklahoma Archaeological Survey.
According to the Survey's Facebook account, the team got a call last week about the skull, which was found in the northwestern region of the state, north of Alva, in a sand pit that was part of a river channel sandbar. How old the skull and fragments are isn't known at this point, though no doubt more information will be provided once an analysis is done.
The skull portion is missing its top, while the two tusks are described as "fragments." One tooth is still in place on the skull, while another was found while the bones were being removed. According to Tulsa World, the bones were discovered by a Woods County employee some time last week, who then reported it to the proper authorities.
It's not unusual to find mammoth remains in Oklahoma — a couple or more are unearthed in the state annually – but the find is exciting regardless. No further details are available at this time, but the remains have been shipped off to Oklahoma State University, where a geology doctoral student will study them.
SOURCE: Facebook