MAME emulator runs on new Apple TV, might be short-lived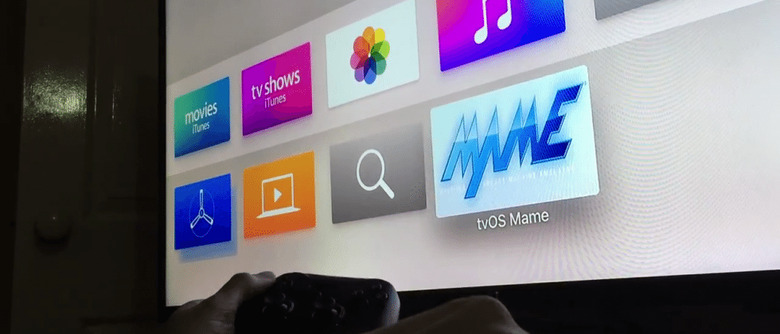 The new Apple TV marks Apple's more formal foray into the land of mobile gaming. But while iOS already does have a lot of titles, both big and small, in its App Store, the platform will be forever be deprived of one class of games, at least officially: emulated games. So when an emulator is shown working well on the new tvOS, there is indeed reason to take notice. But while iMAME does seem to run on the yet to be launched 4th gen Apple TV, it might not last the year, given Apple's policies.
MAME stands for Multiple Arcade Machine Emulator which has become a favorite among developers when creating software that lets you play old school arcade and console games. Over the course of iOS' lifetime, there have been several MAME apps that have appeared and have been taken out of the App Store.
iMAME4all, on which this tvOS version is based on, is one such emulator, one that both has a version for jailbroken devices and one for pristine smartphones. Now a developer was able to take the code for the MAME emulator and build it for the Apple TV. Although iMAME4all is a universal iOS app, which mean it should be able to run on any iOS device, the app had to be built for the arm64 CPU architecture specifically, a hard requirement for Apple TV. The end result isn't perfect, with some glitches in audio output, but is generally favorable.
The emulator was noted to work with the MFi certified SteelSeries Stratus XL paired with the Apple TV via Bluetooth. Getting to the MAME emulator itself, however, of course requires using the Siri Remote.
Sadly, it isn't something that Apple TV owners should look forward to when they get their device. Apple has a strong policy against emulators, a legal gray area when it comes to gaming IP. While some developers manage to sneak their emulators past App Store scrutiny, it sometimes takes only a few days, even hours, before they are taken down. For now, however, developers and gamers could perhaps take comfort in the fact that there is little technical hindrance to getting MAME to work on tvOS. If only they can bypass security.
VIA: MacRumors