Mainstream Windows Vista support ends tomorrow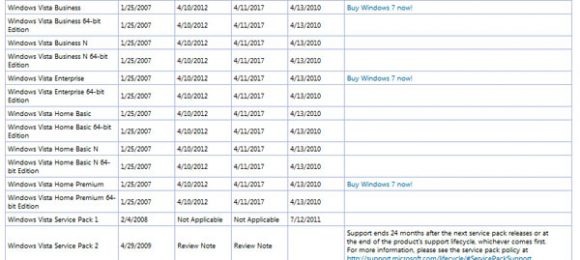 If you are a Windows Vista user we will reach a milestone for the operating system tomorrow. Vista has now been on the market for roughly 5 years. As of tomorrow, Microsoft is ending mainstream support for the operating system. That doesn't mean security updates are ending now, extended support date spans an additional five years.
That means until 2017 we will still get free security updates, but other updates are not going to be free. Naturally, Microsoft is using this to tell people to go buy a copy of Windows 7. The end date for extended support, meaning no more security updates is set at April 11, 2017 for all Windows Vista versions. After today, updates that have nothing to do with security will be on a paid basis.
Also worth noting that Office 2007 also move into extended support this week, that was yesterday on April 9. The end of mainstream support does mean if you run into issues requiring hot fix for Vista you will need to pay for the fix.
[via ZDNet]