Maingear Nomad 17 Gaming Laptop Debuts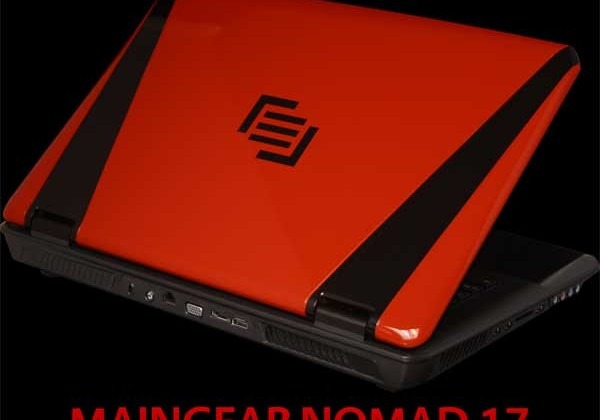 Maingear has been around for a long time making some interesting gaming notebooks and desktop computers. The company has announced its latest gaming notebook called the Nomad 17. The company promises that the new gaming notebook has top-of-the-line mobile hardware, including third-generation Intel Core i7 processors.
The gaming notebook is also equipped with Nvidia GTX 600 series graphics. Processors available for the gaming laptop operate at up to 3.8 GHz and the machine can be fitted with 32 GB of RAM. There are a number of storage options including full-sized SSDs and RAID 0 or 1 arrays.
Maingear has an SSD caching option to speed up the machine for faster load times. The default GPU in the gaming machine is the Nvidia GeForce GTX 675M. An optional GPU is the GTX 680M for gamers wanting even more performance.
Gaming notebook also supports Nvidia Optimus technology and can switch between the discrete Nvidia GPU and the integrated Intel HD graphics as needed for performance and battery life. Connectivity options include USB 3.0 ports, USB 2.0 ports, eSATA, Bluetooth, Ethernet, Wi-Fi, HDMI output, and VGA output. The display is a 17-inch matte finish unit, and the machine has a backlit keyboard and multitouch track pad. The sound system includes dual speakers and an integrated subwoofer. Pricing starts at $1599 and can increase significantly with options.