Maingear Ephex Desktop Gaming Rig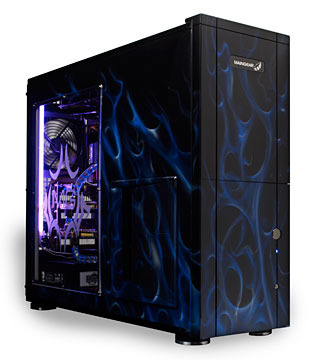 Maingear is a new company to me, but apparently they make boutique, one off custom gaming PC's. Word on the streets is they are pretty good at it too since NVIDIA entrusted them to make the computers that they sent around to the press to show off their new 3-way SLI system.
The Ephex is one of the models of computers they make with an overclocked quad-core Intel processor (3.8GHz), 3 GeForce 8800 Ultras with 768MB of memory each, and 2GB of Corsair memory (they make the best). It also has an EVGA motherboard with the 680i chipset for 3-way SLI, integrated 8channel HD audio, self-contained liquid cooling for the CPU and optionally the GPU(s), and 2 Raptors, a 750GB Seagate drive, and 2 20x DVD +/- RW drives with Lightscribe.
The case looks amazing too with the most realistic blue flame job I have ever seen anywhere. The Ephex ranges between $2500 and $7160, the model I just described costs about $6677, so, next time you are in the market for a high-end gaming PC, maybe you should give Maingear a look and see if they have what you want, or call them, and for the right price, they can probably make you what you want.
[via hothardware]