Mainframe Is A Mildly Horrific Depiction Of Geek Art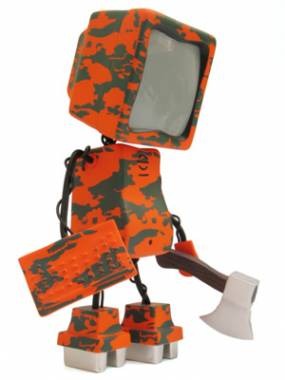 Some of you may recognize this character from one of the many works of art by Dean Bradley. Well apparently Mr. Bradley has decided to produce a few hundred of these things as real life figurines.
With a head made out of a monitor, an axe in one hand, and feet made out of god knows what, I can't determine whether the keyboard is another weapon he is wielding or his other hand. Regardless, this work of art is pretty great looking, and slightly disturbing.
Mainframe was initially drawn to symbolize "our delicate relationship with technology", sure technology has several opportunities to kill us, just not usually with an axe. This thing will be produced in 3 color schemes, the original bright orange, a custom Duck Season Camouflage, and an Apple high gloss white. Now they didn't say the high gloss white was being produced after Apple's designs, but it's a computer based figurine in a high gloss white, what other assumption was I to come to?
Mainframe Computer Figure Is Ready For Battle [via GearFuse]