Magic FrogPad bestows one-handed data entry upon Mac users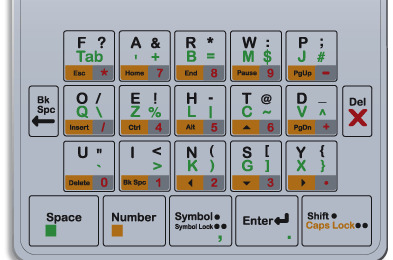 Space at your desk can sometimes be at a premium, something that full-size QWERTY keyboards don't always help with. The folks at FrogPad are here to help with the new Magic FrogPad, a cling that crams the functionality of a full QWERTY keyboard into a one-handed keypad. The Magic FrogPad can fit the Apple Magic Trackpad "perfectly" (hence the name), and comes in designs made for both left- and right-handed people.
With the Magic FrogPad, you've got a QWERTY keyboard compressed down to just 26 keys, which is pretty cool if you ask us. You can toggle between the keypad and mouse functionality easily by hitting the "switch" in the upper left corner. As with most clings, this one is pretty easy to install, and it's even repositionable, meaning that you don't have to worry about making a permanent commitment when you stick this on your Magic Trackpad.
If you're a little intimidated by the look of the Magic FrogPad, the company offers a number of tutorials to get you started. It'll connect to your Mac through Bluetooth, and FrogPad says you can use a mouse along with it if you don't want to be switching between the mouse and keypad functionality all the time. In order to use the Magic FrogPad, you'll need a Bluetooth-enabled Mac computer that's running Mac OS X Snow Leopard 10.6 or above. You'll also need an Apple Magic Trackpad, which kind of goes without saying.
The Magic FrogPad is available now from FrogPad's store for $69.99 with immediate shipping. That may seem a bit expensive at first glance, but that $70 gets you two righty pads, one lefty pad, and a download of the software needed to use the Magic FrogPad. All in all, it doesn't seem like too bad a cling – are you picking one up?