Madden NFL 13 predicts Baltimore Ravens as Super Bowl XLVII champions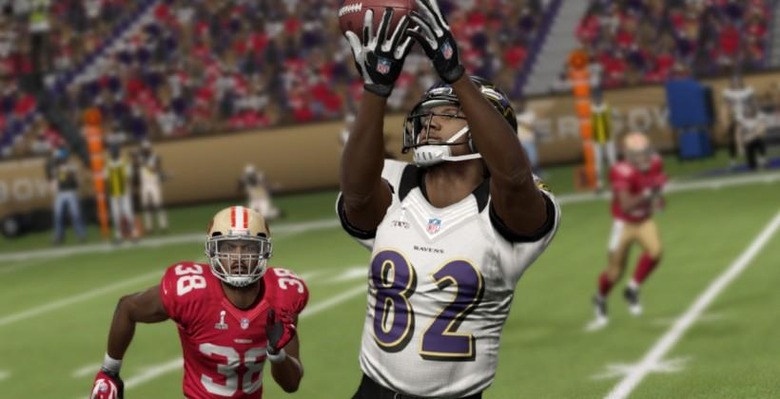 Every year, the Madden NFL video game conducts a simulation between the two teams fighting for the Super Bowl crown. This year it's the Baltimore Ravens matched up against the San Francisco 49ers. In the game's simulated matchup, the Baltimore Ravens won 27-24. And if you think it's merely just a simulation and a prediction, take note that this annual Madden simulation has correctly predicted the Super Bowl winner seven out of the last nine Super Bowls.
The two incorrect predictions came in 2008 when the New York Giants defeated the heavily-favored New England Patriots, and in 2011 when the favored Pittsburgh Steelers lost to the Green Bay Packers. According to this year's simulation, Super Bowl XLVII will come down to a last-minute attempt by the 49ers to win the game, but they fall short, giving the Ravens the win, thanks to an interception made by safety Ed Reed.
Throughout the game, though, it was a back and forth battle between the two teams until the Ravens were up by 24-10 at the end of the third quarter. The fourth quarter saw the 49ers gain some ground and get to within four points of Baltimore, but it wasn't enough, and the valiant effort from the 49ers offense were no match to the Ravens defense.
The simulation took place by developer EA Tiburon, and they conducted on an Xbox 360 using the most up-to-date rosters, and full 15-minute quarters. Both teams were computer-controlled, and artificial intelligence and penalty sliders were not adjusted, but injuries were enabled in order to make the simulation as realistic as possible.