Mad Catz RAT Gaming Mouse Range Ships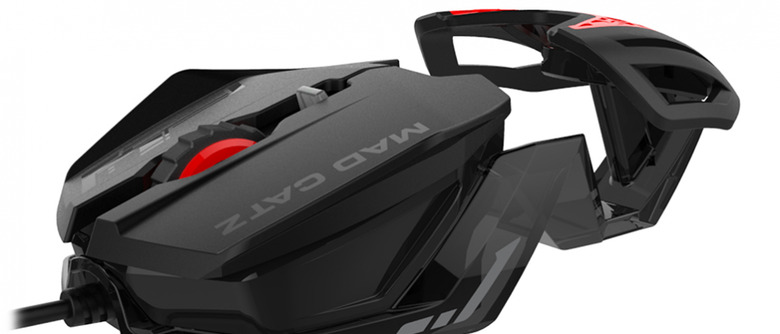 Back in August Mad Catz announced that it had an entirely new range of gaming mice each designed for a different type of gamer. The range included six different mice with the RAT1, RAT4, RAT6, RAT8, RAT PRO S+, and RAT PRO X+. Each of the gaming mice has a new sensor designed for fast reaction time and new button configurations to enhance feel during play.
Each of the new RAT mice also has dynamic ergonomics that allows various adjustments to be made to accommodate different hand shapes and grip styles. The mice also feature Kameleon RGB tech that has intelligent lighting features that allow the gamer to select from 16.8 million color variations and apply different lighting effects. The mice also use FLUX Software interface to tune aspects of the sensor, macro buttons, and LEDs to meet the gamers different needs.
"The steady increment of features and performance throughout the new range, from the RAT1 all the way to the RAT PRO X+, provides gamers and enthusiasts of all levels a choice of peripherals to match the level and overall sophistication of their gaming rig," said Andrew Young, Chief Technology Officer of Mad Catz. "Whether it's button switch life, sensor capability, programmable features, on-board memory or RGB lighting, the new range of RAT products proudly continues Mad Catz' tradition of bringing together the best materials and components, highest level of engineering and latest technologies to deliver the key features, precision and customization that gamers seek."
The mice use OMRON switches good for up to 50 million clicks. The lighting choices for the mice include a rainbow effect, breathing effect, heat beat, cycle, and solid option. The high-end Pro X version of the mouse has interchangeable sensors that let the user tune the mouse to their ideal style. This high-end mouse also has ceramic or teflon feet to adjust how the mouse feels as it slides across the mouse pad. The RAT 1 is available now for $29.99, RAT 4 is available for $59.99, RAT 6 is available for $79.99, and the RAT 8 is available for $99.99. The RAT Pro S+ and RAT Pro X+ will ship at a later date and pricing is unannounced.
SOURCE: Mad Catz