MacBook Air 13-inch core i5 Review (mid-2011)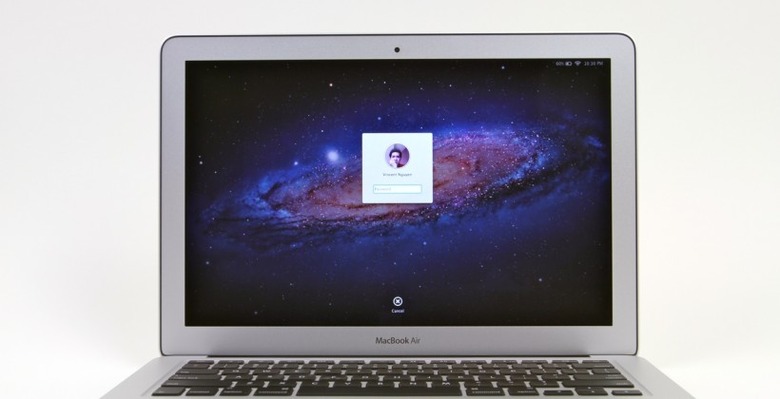 Apple's MacBook Air left many mobile users with a difficult decision back in late 2010. The unibody ultraportable was certainly beautiful, but its ULV processor left some wary that OS X might not be able to keep up with their lifestyle. The new 2011 MacBook Air fixes that, slotting in Intel's latest Core i5 and i7 chips and adding other niceties such as a backlit keyboard. Is this the best ultraportable on the market today? Read on for the full SlashGear review.
Hardware
Outwardly, there's little to differentiate this year's MacBook Air from its predecessor. Apple still offers two sizes – an 11.6-inch with a 1366 x 768 display and a 13.3-inch with a 1440 x 900 display – starting from $999, but the entry-level processor is now Intel's 1.6 GHz dual-core Core i5 rather than the older Core 2 Duo. The lowest price Air has 64GB of flash storage and 2GB of 1333MHz DDR3 RAM, while the $1,199 higher-spec version keeps the 11.6-inch display but increases storage to 128GB of flash. It can also be upgraded to 256GB as well as boosting the processor to a dual-core 1.8GHz Core i7 and the RAM up to 4GB.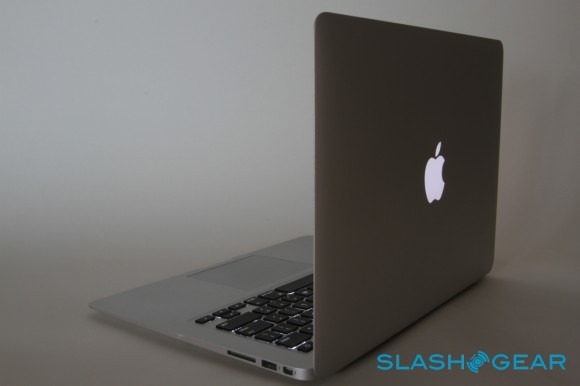 The 13.3-inch MacBook Air, meanwhile, starts at $1,299 with a 1.7GHz dual-core Core i5, 128GB of flash storage and 4GB of RAM. The $1,599 version has 256GB of storage, and can be upgraded to the same dual-core 1.8GHz Core i7 of the smaller Air. Both sizes come with Intel HD Graphics 3000, sharing either 256MB or 384MB (model depending) of the main RAM.

Standard connectivity consists of two USB 2.0 ports – one on each side – along with a MagSafe charging port, headphone socket and Thunderbolt (more on which later). The 13.3-inch MacBook Air has an SD card reader as well. Both versions have WiFi a/b/g/n and Bluetooth 4.0, along with stereo speakers, an omnidirectional microphone and a FaceTime webcam. Unlike on the MacBook Pro and iMac, however, this isn't a 720p-capable FaceTime HD camera, so you're limited to VGA-resolution video chat (just like the iPhone 4 and iPad 2); still, it was capable of decent video and still images, even in relatively low-light conditions.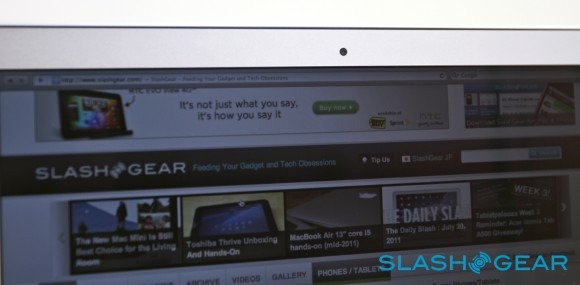 Display and Keyboard
Apple's 11.6-inch MacBook Air split opinion, with some finding its compact display to be simply too small for everyday use, while others marveling at its portability. The 1440 x 900 resolution on the 13.3-inch model may demand a subsequently larger chassis – an inch wider, at 12.8-inches, and 1.38-inches deeper, at 8.94-inches – but the extra pixels are very welcome whether you're browsing, working on a Word document or watching video.

The panel itself is bright and crisp, and lacks the glossy glass panel laid over the top of MacBook Pro displays. That makes it trickier to wipe away fingerprints, but less frustrating in direct sunlight. Viewing angles are very broad.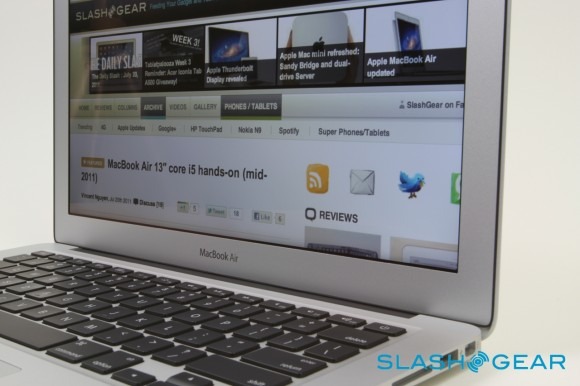 Back when Apple redesigned the MacBook Air last year, one of the glaring omissions was the backlit keyboard. Happily that has been rectified in the 2011 range, with the keys automatically lighting up and adjusting their illumination according to ambient levels. There are dedicated keys to manually adjust it if you prefer.
Although it may seem a gimmick initially, the backlit 'board can make a big difference when you're working in low-light environments. If you've ever angled your laptop screen so as to see which key is which, then the MacBook Air's keyboard will appeal. The keys themselves have slightly shallower travel in comparison to those on the MacBook Pro, but are pleasantly clicky in use. Underneath is still the same large multitouch trackpad.
Thunderbolt
Like the MacBook Pro and iMac (and the new Mac mini announced alongside this latest refresh) the MacBook Air gains Thunderbolt connectivity in 2011. Using Intel's "Light Peak" technology, the connection supports up to 10Gbps bi-directional data, and can be used not only as a Mini DisplayPort (with the same socket, meaning you won't have any issues with your old LED Cinema Display) but as a high-speed way to attach external drives, RAID arrays and other peripherals. With the right adapter cable, you can use it as an ethernet port or FireWire 800.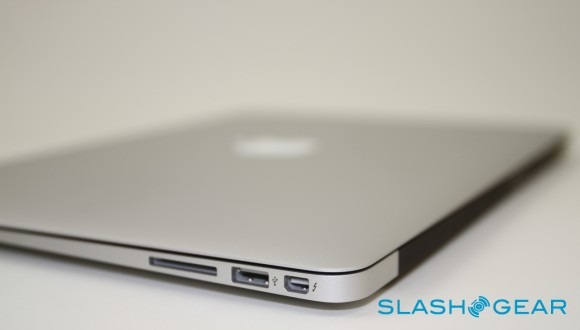 Thunderbolt accessories are in short supply today, though that situation should improve as the year progresses. Thanks to the port and Apple's new Thunderbolt Display, though, the MacBook Air should come into its own as a mobile/desktop hybrid. When the new screen goes on sale, Air owners will be able to hook up with a single cable and get three more USB 2.0 ports, a FireWire 800, gigabit ethernet and another Thunderbolt for daisy-chaining, as well as 27-inches of monitor real-estate.
Software and Performance
The new MacBook Air comes preloaded with OS X Lion (SlashGear review), Apple's latest version of its Mac platform. Borrowing some of the concepts from iOS on the iPad, and introducing new multitouch gestures, Lion also builds on the previous Air's fast-standby abilities with Resume that reopens your apps exactly as they were when you closed them last.
Full-screen apps can now be switched between with three-finger swipes, and Apple has flipped the default "Natural" scrolling system so that, like dragging a page around on the iPad, it's inverted to OS X Snow Leopard's default. That takes a little getting used to, but can be turned off in the settings. There's also tap- and pinch-to zoom support.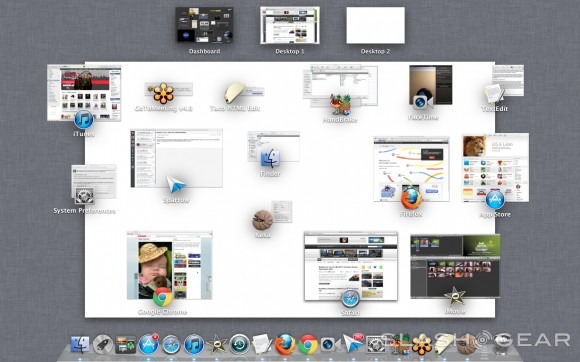 The previously separate Dashboard, Exposé and Spaces have now been pulled together into Mission Control, and we found ourselves more likely to use the multiple desktop spaces now that they were easier to keep track of. That will particularly help on the smaller 11.6-inch Air. Similar to iOS is Launchpad, a grid arrangement of all of your apps that can be organized into pop-up folders. We particularly liked AirDrop, a simple file-sharing system that automatically discovers physically nearby OS X Lion users and offers a straightforward way to drag & drop files between them.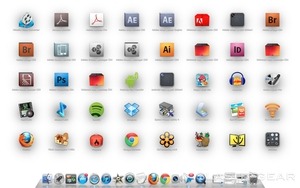 In addition to the more fundamental changes to the OS, there are some alterations to the pre-loaded software. Mail has borrowed heavily from the email client on the iPad, with a cleaner UI and new "widescreen" view that works very well with the (optional) conversational message layout. The iLife suite – iPhoto, iMovie and Garageband – has been updated to support full-screen use, while Safari 5.1, iChat, iCal, Photo Booth and FaceTime are all preloaded. Finally, the Mac App Store offers access to a growing catalog of Apple and third-party software.
Our review unit is the 13.3-inch model with the standard Core i5 1.7GHz processor and 4GB of RAM. We ran Geekbench, a synthetic test of processor and memory performance, and the MacBook Air scored an impressive 5,705, considerably higher than the 2,178 scored by the 11.6-inch Core 2 Duo model we reviewed in October last year. In fact, it comes surprisingly close to the 6,309 scored by 2010's Core i7 MacBook Pro (though obviously lags well behind the current-gen MacBook Pro).
[sgbenchmark id=137 show=score]
[sgbenchmark id=93 show=score]
In practice, that makes for a slimline ultraportable capable of the sort of tasks you'd have turned to a regular notebook for last year. Apps open and switch swiftly, multitasking is handled without complaint, and things you might have shied away from on the last-gen model – processing audio or video clips, for instance – are far more realistic on this new machine. Even more impressive is that this is from a chip only halfway through the range: there's the dual-core Core i7 on offer for those wanting even more power.
Battery
Apple suggests Air users should see up to five hours runtime from the 11.6-inch model and up to seven hours from the 13.3-inch. That's based on the company's own internal testing, wirelessly surfing between 25 sites with brightness at 50-percent.
In practice, we managed around six hours of mixed browsing, some audio playback and a few YouTube videos, with brightness set at 50-percent. Obviously if you spend more time working on documents rather than online, you could probably stretch the MacBook Air out beyond the seven hour point.
Wrap-Up
It's difficult to argue with the 2011 MacBook Air. Apple has taken our main criticisms of the previous model – backlit keyboard, faster processors – and addressed them neatly, without detracting from battery life, portability or style. The addition of the Thunderbolt port and the upcoming Apple Thunderbolt Display should turn the ultraportable into a legitimate desktop alternative, too.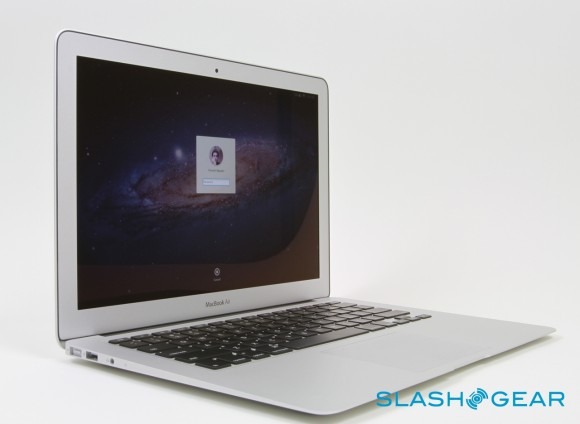 An integrated 3G/4G WWAN option is one of the lingering absences, indeed across all of Apple's notebook range, and we'd love to be able to get online with the Air no matter what the WiFi hotspot situation. Meanwhile, the top-capacity flash drivers are expensive, though such is the price you pay for supporting instant-on and month-long standby times.
In short, that difficult decision between prioritizing portability and performance has pretty much been made for you: the MacBook Air grants you both. Build-quality is reassuringly strong, speed and performance are sufficient for most users, and the ability to drop the Air into a bag and hardly notice it's in there is a huge advantage. In 13.3-inch form it's a little more expensive than the entry-level 13-inch MacBook Pro (and you get a slower processor, less storage and no optical drive), but we'd wager the Air could still hold its own. Altogether, the MacBook Air remains our ultraportable of choice.
[sgbenchmark id=137 show=system]